Top Cards to Collect
Topics:
Baseball, Bryce Harper, Phillies, Rookie Cards
Bryce Harper embodies the spirit of the City of Brotherly Love—a unique blend of gritty determination and modern-day charisma akin to a classic Mitchell & Ness throwback jersey. This city, renowned for its passionate sports culture, has witnessed the rise of legends, from Allen Iverson's electrifying crossovers to the indomitable spirit of Jalen Hurts and the Eagles. Harper, alongside the Phillies, etched his name into this storied sporting tapestry by helping Philly's baseball team reach the World Series in 2022. This season, Harper and the boys are one win away from returning to the promised land. As he continues to shine and drive up the price on his memorabilia, we wanted to rank "Mondo's" best rookie cards and more according to value, exclusivity, and creativity.
---
Bryce Harper RCs & More, #s 10-6
---
10: Topps Project70® #590 – 1994 Bryce Harper by The Shoe Surgeon
Topps collaborated with legendary sneaker customizer The Shoe Surgeon for a Grand Theft Auto Vice City-inspired Topps Project70® Bryce Harper card. We're already suckers for Project70® joints. But fusing it with the cover art from arguably the best game in one of the best videogame series ever? Wow! Tears of joy are streaming down the faces of gamers worldwide. I'd definitely cop Mondo III if it came out via Playstation. Imagine the missions!? Tommy Vercetti couldn't compete with that.
9: 2020 Topps Series 1 #250 Bryce Harper Auto
Act fast on the 2020 Topps Series 1 #250 Bryce Harper! It's currently on the Phillies' MLB Shop, and as of this post, there's only one left. Finding a Bryce Harper card that has an on-card auto and perfectly captures how he plays the game is rare, my friends—a true gem.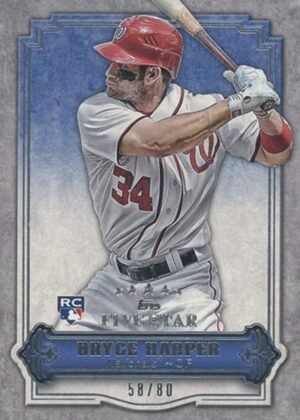 8: 2012 Topps Five Star #1 Bryce Harper RC /80
We're throwing it back to Harper's rookie days with the 2012 Topps Five Star #1 Bryce Harper RC /80, which is an absolute showstopper and one of his hardest cards to acquire. There are only 80 of these cards in existence, making this his rarest rookie card with a serial number. Happy Hunting!
7: 2012 Topps Heritage #H650 Bryce Harper RC
Topps Heritage High Number was one of the first online exclusive baseball sets, and only 1,000 of these bad boys dropped. With Heritage being one of the premier baseball sets and the popularity of Harper, the 2012 National League Rookie of the Year, it's obvious this product flew off the net. This is another card worth searching for, but hard to locate, especially at a bargain.
6: 2023 Topps Tribute #DR-SH Bryce Harper / Mike Schmidt Dual Relic Jersey /25
Take Hall of Famer Mike Schmidt — the best player in Phillies history — and throw him on a card with Bryce Harper — one of the best players in the franchise's lore and voila! Magic. Now, produce only 25 of these, add jersey relics and here's a gem that collectors and Philly fans might do almost anything to get their hands on. As the kids would say, this one "goes crazy."
---
Bryce Harper RCs and More Pt. 2
---
Top RCs and more to collect
---
More RCs to Collect
---