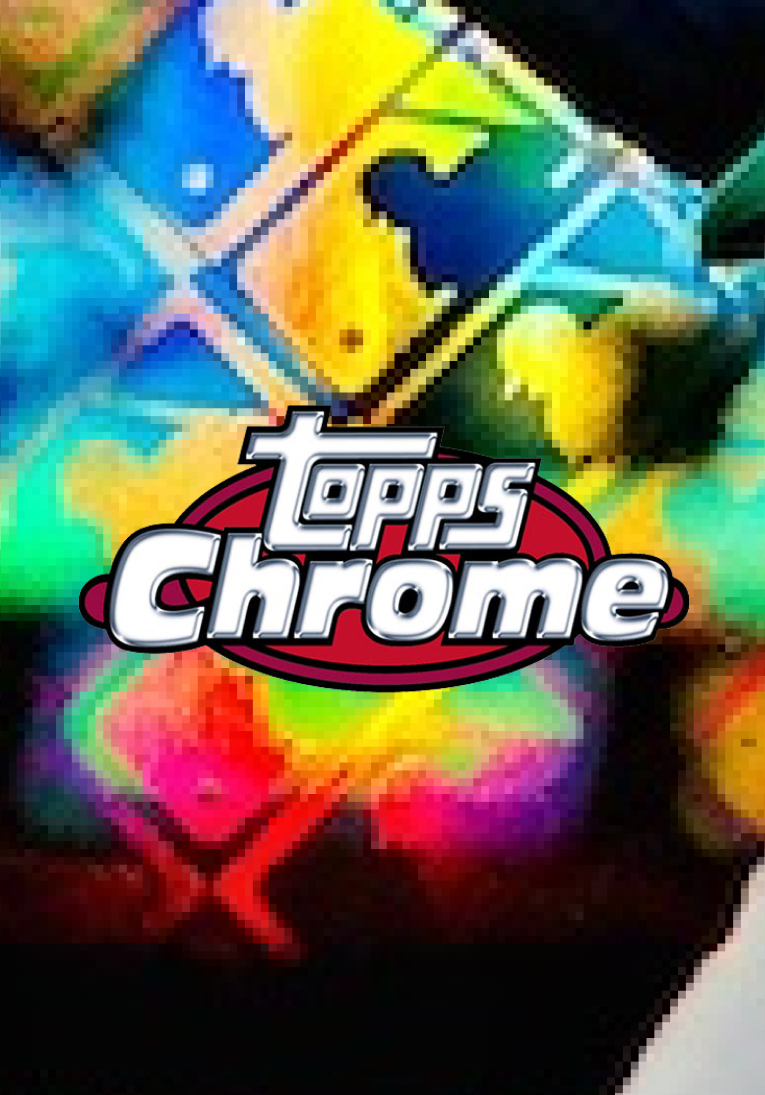 Debut Year:
1996
Chrome was among the first premium baseball products to be released in the 90s.
Licensors:
MLB, F1, Star Wars, Bundesliga, UEFA, OTE
Though known for baseball, Topps Chrome covers several sports and IP.
Value Level:
Premium
A higher-end product with a range of accessible price points.
When it comes to baseball cards, Topps Chrome is synonymous with the best: the best players, the best card quality, the best collector experience overall. Unlike the flagship Topps Baseball product, which covers every player on every team, Chrome focuses on a select group of 200-220 of the best players.
The cards are printed on laminated chromium paper – a premium, metallic cardstock that is more durable than traditional cardboard. You can feel the value when you hold the card in your hand.
WHO IS TOPPS CHROME FOR?
Compared to Topps Baseball, Topps Chrome tends to appeal to the more seasoned collector. The premium material and elevated technology makes for a somewhat higher price point, with some of the most exclusive Hobby Boxes selling for hundreds of dollars. For seasoned collectors, who view cards as an investment as well as an amusement, the durability and longevity of Topps Chrome makes it worth the extra spend.
That said, Topps Chrome products have a wide range of price points, and the brand is accessible for just about everyone. For every high-end Topps Chrome Hobby Box, there is a less-expensive value box or blaster box that virtually any collector can afford.
Topps Chrome is especially great for rookie collectors. Every box includes at least one guaranteed auto – and all hobby boxes contain two guaranteed autos, which means you're highly likely to pull a rookie auto when ripping Chrome. So if you're looking to get in on the ground floor of a future Hall of Famer, and want a premium rookie card with long-lasting durability and value, Topps Chrome is the perfect product for you.
THE HISTORY
To understand the value of Topps Chrome, you have to understand the history. Topps Baseball launched in 1952 and dominated the market for the next forty years. It was essentially the only baseball product on the market for most of that period. Then, in the early 1990s, Topps and other brands began experimenting with higher-end, premium products. One example was Topps Finest, which introduced the world to Topps refractor cards and was a huge hit among high-end collectors. But Topps Finest was entirely different from Topps Baseball – different images and different design.
Despite the popularity of these new and different premium products, Topps Baseball remained the standard-bearer – the product that appealed across the collector spectrum, with the longest history and greatest loyalty. What if there was a premium, higher-end product that replicated the flagship baseball sets?
Enter: Topps Chrome.
WHY IT MATTERS
Topps Chrome deploys the same images and design aesthetic of the Flagship series, but uses chromium paper to create premium, high-end product. The chromium technology creates a metallic look and feel; it also makes for more durable, long-lasting cards. When Topps Chrome cards in your hand, you can literally feel the value.
In this way, Topps Chrome is essentially a parallel of the Topps Baseball set – a premium version of the flagship series that collectors have cherished for over seventy years. Yet only a select number of players from the Topps Baseball series – roughly 200 to 220 – are selected for inclusion in Chrome each year.
WHAT AM I CHASING?
Some of the greatest rookie cards of the modern era hail from Topps Chrome (yet another reason the product is beloved by rookie collectors).
The durability and strength of Topps Chrome design make these rookies especially chase-worthy. Decades from now, when players like Pujols and Judge take their rightful place in Cooperstown, their Topps Chrome rookies will continue to shine.
The best players on highest quality, premium cards: that's Topps Chrome.