Top 10 Topps Chrome® Baseball Future Stars
Topics:
2023 Topps Chrome, Baseball, How To Collect
The Future Stars inserts in Topps Chrome® has been hitting it out of the park for baseball card enthusiasts since 2015. This unique series, a crystal ball of Chrome, spotlights the young phenoms set to shape the game's future. With the shimmering charm of Chrome and the prestige of the Topps brand, these inserts not only offer a glimpse of tomorrow's superstars and serve as a thrilling chase for collectors. Like a rookie's debut, unboxing a Future Stars card produces a rush of anticipation and excitement, marking another home run in the Topps collection.
2023 Topps Chrome Future Stars #FS-13 Julio Rodriguez
In less than two full seasons in Seattle, Rodriguez boasts a pair of All-Star appearances, two elite performances in the Home Run Derby, a Silver Slugger, and AL Rookie of the Year honors (2022). It's safe to say "J-Rod" is a bonafide star and one of the hottest names in the 2023 Topps Chrome Future Stars set. As Seattle looks to climb back into the AL West division race, Rodriguez will be counted on to put on his cape and carry the Mariners to the postseason.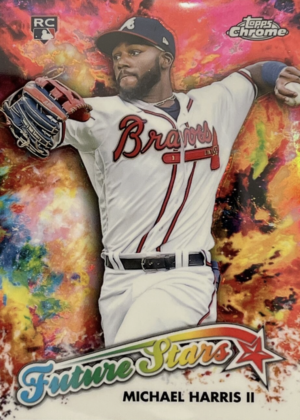 2023 Topps Chrome Future Stars #FS-20 Michael Harris II
The 2022 NL Rookie of the Year, Harris II, hasn't disappointed in Year 2; he's hitting in the .270s for an Atlanta team looking to win its second World Series of the 2020s. Against the Red Sox on July 25, 2023, the center fielder took part in the first 8-3-5 triple play in the Majors since 1884. Extraordinary things happen when Harris laces 'em up.
2022 Topps Chrome Red Refractor #FS1 Yordan Alvarez Future Stars /5 Astros
Open Houston's record books, go to the fewest games to reach 100 homers section, and Alvarez's name stands at the top. The slugger accomplished the feat in 372 games, the fifth-fewest in MLB history. The Astros' superstar is also the seventh-fastest player to reach 100 RBIs in league history and the swiftest since the expansion era started in 1961: let's say Alvarez has a need for speed. PS: Only five 2022 Topps Chrome Red Refractor #FS1 Yordan Alvarez Future Stars exist.
2022 Topps Chrome Future Stars #FS-12 Jazz Chisholm Jr.
Few athletes can say they've graced the cover of a video game. As the kids would say, Chisholm, the 2023 MLB The Show cover boy, "brags different." He's a lightning rod of a personality, boasts superhuman power and speed, and has transitioned from second base to center field in 2023. "I told everybody I was gonna be a big leaguer," said the Marlins' superstar when asked about the move. That's the kind of talk one expects from a guy who punctuates homers with a hoops-inspired Eurostep and shines just as bright as his jewelry.
2021 Topps Chrome Future Stars Gold Refractors #FS18 Zac Gallen
Bursting onto the scene like a rocket, Gallen has been defying gravity since his MLB debut. With a whirlwind of pitches that dance around hitters, this master of the mound has secured his place as one of the key forces in the Diamondbacks' rotation. He's not just about fastballs and curveballs; Gallen also holds the unique distinction of being the first pitcher in the modern era to allow three or fewer runs in each of his first 23 starts.
2021 Topps Chrome Future Stars #FS-10 Devin Williams Auto
Williams has taken Major League Baseball by storm with his devastating 'Airbender,' an awe-inspiring changeup that baffles even the most seasoned hitters. Aptly named, the Airbender brings a Ripley's Believe It or Not-like appeal to pitching, dropping out of the sky at the last moment to dodge swinging bats. So far, it's been an instrumental pitch for Williams, who won the 2020 NL Reliever of the Year Award and has made the All-Star team the past two seasons.
2020 Topps Chrome Future Stars Prizm Refractor #FS-11 Fernando Tatis Jr.
Tatis Jr., the dynamic shortstop of the San Diego Padres, is lighting up baseball like a meteor shower across the night sky. With his 2020 and 2021 back-to-back Silver Slugger awards and the 2021 NL Hank Aaron Award, Tatis has commenced a career that could culminate in a bust in Cooperstime. The one-time All-Star's astounding stats speak volumes: by age 22, he'd already crossed the 70-home run threshold, making him one of the youngest to do so. His 2020 Topps Chrome Future Stars Prize Refractor #FS-11 is a prized gem on the market.
2019 Topps Chrome Future Stars #FS-1 Shohei Ohtani
Here's some advice. Solicited or unsolicited, we're here to help. If you see an Ohtani card on the market, cop it! He's hotter than granny's grits, and the hype won't be simmering down anytime soon. He's currently on pace to smash Aaron Judge's AL record for most homers in a season and is one of the game's elite pitchers. Check out what Cubs ace Marcus Stroman had to say about "Shotime": "MVP with ease. He should win it every year. What he's doing is insane. All of us at the highest level can't believe our eyes. Truly remarkable. Be thankful you get to witness a real GOAT!"
PS: After knocking one out of the park and pitching a shutout in the first leg of Los Angeles' doubleheader with Detroit on July 27, 2023, Ohtani tallied a jack in the dual's second game. He's unreal. Arguably the best player in all of sports at the moment.
The hype will not simmer!
2018 Topps Chrome Future Stars #FS-1 Aaron Judge
In 2017, Judge set a Yankees record f homers by a rookie (52). In the following campaign, "The Honorable" became the fastest player in league history to surpass 70 dingers (231 games). Fast-forward four years later, the perennial All-Star torched the AL's mark for roundtrips in a season (62). The mountain of a man (6-foot-7) is one of the most recognizable faces in all of sports. Popularity plus production equals valuable trading cards. All Rise!
2016 Topps Chrome Future Stars #FS-5 Jacob DeGrom
DeGrom dodges hits and runs as if he were Neo from The Matrix. This two-time Cy Young winner – one of only 21 players to have won the award multiple times – has an ERA that often dips below 2.00. In 2018, the ace signed his name in the history books with an astounding 24 consecutive quality starts, outperforming every Agent Smith on the mound.
Check out all of our 2023 Topps Chrome content.