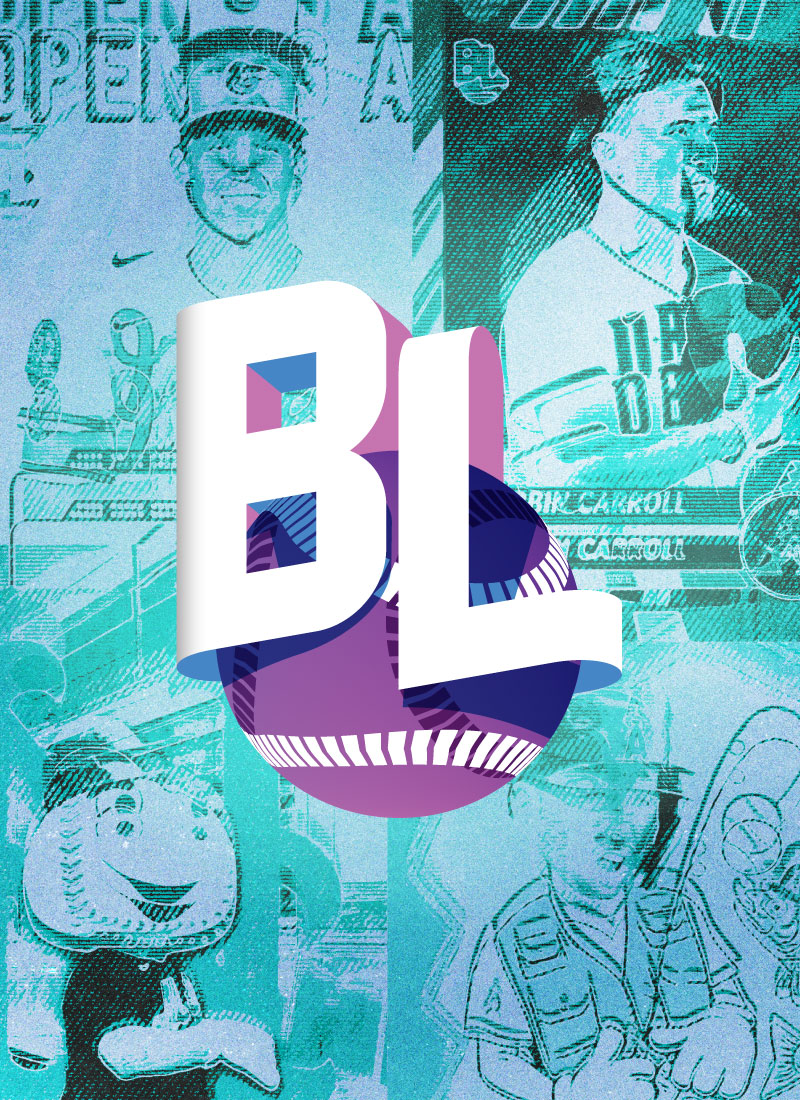 Welcome Back to the Big Leagues
Topics:
Inside the Box, Topps Big League Baseball
Collectors might remember that the release of the 2021 Topps Big League Baseball card set was delayed into spring 2022, but it ultimately proved that good things come to those who wait.
Right on time for the start of the MLB season, 2023 Topps Big League Baseball is here — this time proving good things also come to those who aren't quite as patient.
A less traditional set than, say, Series 1, Topps Big League Baseball has a lot to love for kid collectors and seasoned vets alike. For one, it's more affordable, making it perfect for those hunting diamonds in the rough or still just testing the waters of the hobby. At the same time, there are enough valuable cards to chase that it won't be a fruitless journey.
While boxes are still intact, let's look inside to see what 2023 Topps Big League Baseball has in store.
2023 Topps Big League Baseball Product Details
Cards per pack:
hobby – 8
Blasters – 8
Packs per box:
Hobby – 18
Blasters – 10
boxes per case:
Hobby – 20
blasters – 40
What am I Chasing in 2023 Topps Big League Baseball?
2023 Topps Big League Baseball Base Cards
There are 310 cards in the Topps Big League Baseball base set, and the first 200 cards in the checklist are common — you can expect a pack to be filled mainly with these. In those first 200 cards, there are 25 rookies, highlighted by Cleveland Guardians outfielder (and 2022 postseason hero) Óscar González. The next 50 in the set are less common rainbow foil cards; one comes in every pack. In that group, you might expect to find promising rookies like Los Angeles Dodgers utilityman Miguel Vargas and Los Angeles Angels catcher Logan O'Hoppe, along with proven stars like Miami Marlins starter Sandy Alcantara, the winner of the 2022 NL Cy Young.
Once you get to No. 251, the cards become more valuable. The next 25 cards – Rare Blue Foil – includes New York Mets' top prospect Francisco Álvarez. That card type only appears once every 18 packs or one for every hobby box. Cards 276 to 300 are Super Rare Red Foils; you'll only find one in every 90 packs. This group includes this year's rookie card headliners, like Baltimore Orioles catcher Adley Rutschman and Arizona Diamondbacks outfielder Corbin Carroll.
Finally, you've got the Legendary Gold Foils in the last ten cards of the set. It's all titans of the game here — Jackie Robinson, Babe Ruth, Ken Griffey Jr., and more — and there's only one card for every 360 packs. For these, you either have to take a lot of at-bats or just get really lucky.
Still looking for more rare cards in the base set? There are also Black Foil (numbered to 25), and Foilfractor (one of one) parallels for every one of the 310 base cards.
2023 Topps Big League Baseball Inserts
Insert cards are always a chance for the designers at Topps to have a little fun. 8-Bit Ballers cards take on a retro video game style, nodding to the past while showcasing some of the modern game's most feared sluggers. It also honors a few legends, including former Kansas City Royals outfielder Bo Jackson (who was famously unstoppable in an 8-bit video game, albeit a football one).
The MLB's City Connect program has been a hit so far, and by next year, every team in the league will have revealed their own City Connect uniform. The City Slickers insert highlights ballplayers in those special-edition threads, like Boston Red Sox third baseman Rafael Devers in a uniform inspired by the colors of the famous Boston Marathon.
If collecting players wasn't enough, the Mascots insert pays tribute to the game's silly creatures and characters that roam the stands. The standard mascot cards are relatively common, while a rarer variation of the insert, called Mascot Mania Foil, places the mascots in locations notable to their home cities. (For instance, Mr. Met is depicted as a straphanger on the New York City subway.)
2023 Topps Big League Baseball Autos
Serious collectors on the hunt for autographs have plenty to chase in Big League Baseball. The best shots to nab an auto come in one of two sets: Big League Blue Foil Autographs (which consists of veteran players) and Opening Act Blue Foil Autographs (which features rookies). In addition to the more common Blue Foil, both sets have the following parallels: Gold Foil (numbered to 50), Orange Foil (numbered to 25), Red Foil (numbered to five), and Foilfractor (one of one).
There are also opportunities to get signed versions of a few of the inserts above, like the 8-Bit Ballers and City Slickers cards.
2023 Topps Big League Baseball Contests
That's not all you've got to look forward to — the set even has a few contests for collectors. Each hobby box includes a "Become a Big Leaguer" scratcher; the winner will have their very own card in next year's Big League Baseball set. And for aspiring influencers, there's the Social Media Follow Back Redemption. Whoever gets their hands on one of these cards earns a follow from All-Stars like Seattle Mariners outfielder Julio Rodriguez. You'll still have to earn a like on your pic fair and square.
Ready, Set, Rip!
Are you just getting into the hobby and looking for a fun starter series? Looking for a product at a reduced price point that still offers chances at big hits? Rip into Topps Big League Baseball! The 310-card set is available beginning March 31st.