Visualizing 2023 Series 1
Topics:
Baseball, Topps Series 1
One word: excitement.
That's how Brand Manager Jeremy Fullerton described the 2023 Topps Series 1. He's just plain excited for the set, and he thinks fans will be, too. Excitement is what baseball is all about, right? Even right now, in the deepest part of winter, the upcoming baseball season sparks intense feelings of hope, of anticipation.
With the new flagship set dropping this week (and soon after, a new baseball season), let's take a peek behind the curtain at the design of Series 1.
Classic, Yet Current
According to John Doldan, the art director for Topps Baseball, his team's goal for Series 1 is "to try and make something that looks like Topps, and has the feel of the Topps brand, but is also somewhat unique and different from the past 70 years."
In a lot of ways, the design of the 2023 Series 1 echoes that deep tradition. Fonts on the base card are clean — chosen primarily for maximum legibility. After a few years of experimenting with full-bleed action photos, Topps' hallmark white borders returned in 2022, and this year's set keeps those borders.
But here's the real news of 2023: the dual-photo card — with a smaller headshot alongside the main image — makes its return to the 330-card base set.
"We had talked about going to a two-photo card for a while because we just haven't done it in a long time," Doldan said. "When we start the design process, we do look back at the previous years … We have 70-plus years of Topps history, so there's a lot to look back on."
Jeff Zachowski, Topps' senior director of creative, says that the team was a little hesitant about the two-photo look. (Some astute collectors have noticed that Topps has featured dual-photo cards every 20 years, and 2023 simply marks the next turn in the rotation. But according to Fullerton, that's a total coincidence.) The style dates back as early as the 1950s, and for Topps, remaining fresh is top of mind.
"To some extent, those cards have a very vintage, retro feel," Zachowski said. "So there was some conversation internally about pulling it off and still making the cards feel modern and current."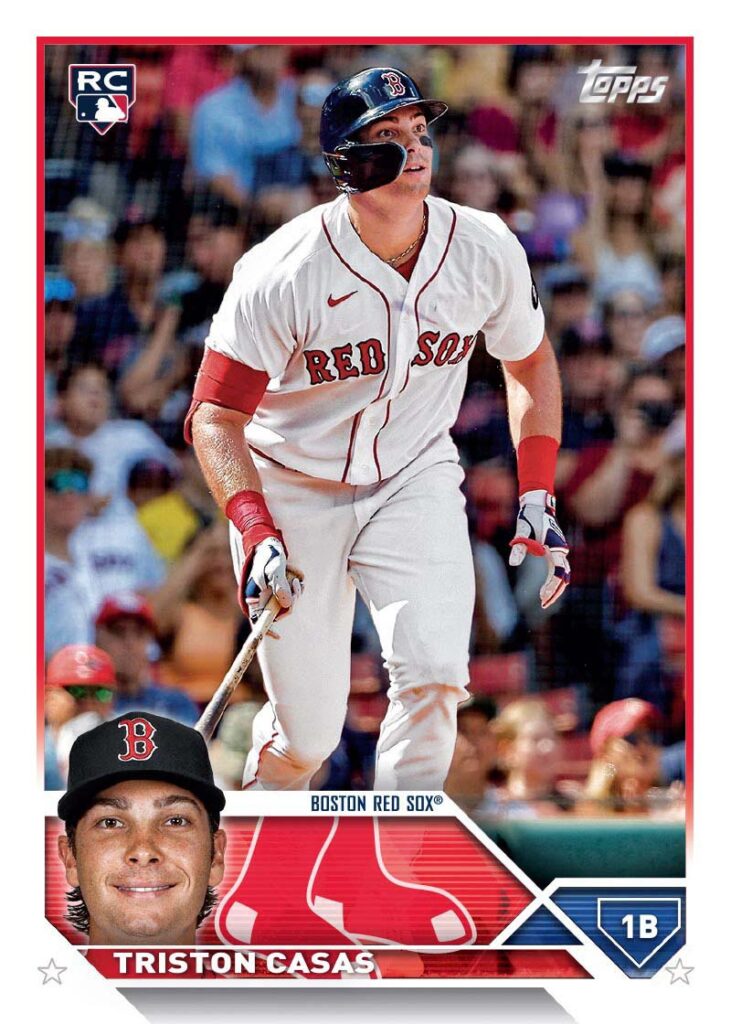 In every previous iteration of the dual-photo card, the player's headshot was contained within a shape — in 2003, for example, it was a baseball diamond, and in 1983, it was a circle. So this year's differentiator is that the headshot has no background and isn't contained within a shape. Doldan liked that it made 2023 unique and that the headshot bridged into the main action image.
Playing Their Cards Right
The average person might not realize how much effort goes into creating these sets.
"It takes us almost a full year to create the product," Fullerton said. "I'm about to start thinking about 2024 Series 1."
Zachowski agreed. "Even the tiniest border on a design, even if it's just thin white piping," he said, "The smallest little details that seem very simple and easy, we put a lot of time into making sure that that's right."
The process begins each year with Fullerton and the brand team establishing the series' direction. In this early stage, the direction often comes through intuition; "You just know it when you see it," he says.
From there, it's time to design the card template. Fan feedback factors greatly in the decisions that the team makes regarding the upcoming set. For example, Doldan and Fullerton both said they were pleased with the positive reception to 2022 Series 1, which was part of the reason they stuck with white borders. The designers also consider the fact that many cards in the set will be valuable and get graded—they try to avoid riskier elements that might cause problems in manufacturing.
"When you see a card, I want you to feel like you're there"
The editorial team, which includes Sports Editor Keith Andrews, is then responsible for establishing the lineup of players that will appear. It's not just the best 330 players in the league in the Series 1 base set — Andrews and the brand team collaborate to ensure enough stars appear in Series 2. For example, when one team has multiple star pitchers, Andrews will try to split them up; he also tries to delay the inclusion of free agents that are likely to change teams. (Andrews said Aaron Judge presented a tough call this year, but he'll be in Series 1.)
Once the lineup is set, the editorial department selects photos for each player and crops them to the canvas. For the Flagship Series 1, that's a task that takes Andrews a couple of weeks to complete, much longer than the timeline for photo selection for other products.
"My goal as an editor is to pull images that are indicative of the player, that represents the energy that they bring to the game," he said. "When you see a card, I want you to feel like you're there."
Generally, Andrews says he likes to switch it up year-to-year, aiming for something representative without repeating styles. He especially likes pulling photos of diving catches, close plays on the bases, and big celebrations.
This year, due to the two-photo style, selecting images required slightly more discretion than usual.
"When you're talking about how the two images are going to interact with each other, it's not an easy task," Zachowski said. "In a situation like that, the art director has to be really hands-on and make sure that the editorial team understands the challenges."
Extra Bases
The base card is the highlight of Series 1, and this particular year, Doldan and Zachowski are both most excited about that one. But they're constantly trying to push the envelope, so they also relish the opportunity to be bolder with their designs on the set's insert cards.
"Heavy Lumber" cards, which feature 20 of the game's biggest sluggers, are printed on fine sheets of cherrywood. "Home Field Advantage" cards will feature photo montages representing each player's city. "All Aces," which features elite pitchers, takes on the style of a classic playing card (complete with rounded edges).
Whether you're a casual fan or you've been waiting years for Adley Rutschman's rookie, there's something for everybody to love in 2023 Series 1. It's an exciting time of year, and collectors wouldn't have it any other way.