Top Prospects to Collect
Topics:
Baseball, Bowman Chrome, How To Collect, Prospecting
In baseball card collecting, few product lines command the respect and anticipation of Bowman Chrome. A testament to its prestige, the 2023 Bowman Chrome set continues the proud tradition of showcasing the crème de la crème of international prospects poised to make their mark in the baseball world. Over the years, Bowman Chrome has graced collectors with the debut cards of prodigious talents, from the electrifying Elly De La Cruz to the formidable Julio Rodriguez. As we delve into this year's set, prepare to be introduced to the next generation of international superstars, players who are set to dominate the diamond and the hearts of collectors worldwide.
---
Top 2023 Bowman Chrome Prospects #s 5-1
---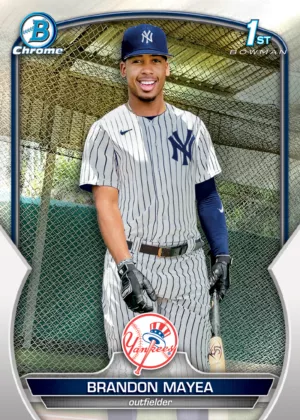 5: 2023 Bowman Chrome® Prospects #BCP-188 Brandon Mayea
What was supposed to be a championship-contending year for the Yankees in 2023 turned into a disaster, with the franchise currently sitting at the bottom of the AL East standings. But all should be well in the future, as the Yanks acquired Mayea, a 17-year-old prospect from Cuba, on a massive $4.35 million deal. While it'll take some time for the 17-year-old Mayea to climb to the Bigs, the future looks bright for an organization trying to return to glory and an outfielder who is just scratching the surface of his potential. "You watch him in center field, and you know it's really good," said New York's international amateur scouting director Donny Rowland. "You watch him run, and you know he can fly. Then you watch him hit, and it's like, wow, the bat might be the best of his tools. That's what impressed me the most."
4: 2023 Bowman Chrome® Prospects #BCP-189 Sebastian Walcott
Hailing from the sun-soaked Bahamas, an emerging hotspot for baseball talent, Walcott is already causing a stir in the baseball world. At just 17, he's touted as potentially the best player ever from the islands, a land that's given us Major League gems, including budding Marlins star Jazz Chisholm. With a powerhouse swing that dreams of 30-homer seasons and an athletic prowess hinting he might just redefine the shortstop position, the Rangers' $3.2 million bet on Walcott could be their jackpot.
3: 2023 Bowman Chrome® Prospects #BCP-163 Enmanuel Bonilla
The Blue Jays have a rich history of developing Dominican talent, from legends like Tony Fernandez and Carlos Delgado to newer sensations like Vladimir Guerrero Jr. and Teoscar Hernandez. Hoping to add to that lineage, Toronto invested heavily in Bonilla, doling out a $4.1 million bonus in 2022. After impressing the franchise during their Dominican instructs post-signing, the young slugger shows early hints of possibly joining the ranks of standout Blue Jays nurtured in their farm system. The hope is that Bonilla might make as significant an impact as other Dominican stars.
2: 2023 Bowman Chrome® Prospects #BCP-156 Felnin Celesten
Celesten is seriously making waves, and if there's a team that hits on talent evaluation, it's the Mariners. Think about the legends they've churned out from their farm system – King Félix, Kyle Seager, A-Rod, and even Ken Griffey Jr. back in the day. After seeing Celesten flex from Colombia to the U.S. and smashing it in big D.R. tournaments, the Mariners said, "This kid's next!" and dropped a cool $4.7 million on him. He's not just fast – he's Mariners-farm-system-elite kind of fast. And that power? Classic Mariners' diamond-in-the-rough material. As the insiders say, this kid's a total "toolshed." So, gear up because Celesten might be the next big thing to rock the MLB, Mariners-style.
---
1: 2023 Bowman Chrome® Prospects #BCP-171 Ethan Salas
MLB Pipeline's top international prospect for 2023, Salas, was snatched up by the Padres with a hefty $5.6 million tag — nearly all of the team's base signing pool. Even at a young age, Salas has become the buzz of the Minor Leagues, debuting in Low-A before turning 17 and smashing nine home runs in just 48 pro games. Quickly progressing through the ranks, the dynamic catcher even briefly appeared in Double-A, standing out as the youngest player by several years. Combining raw talent with a refined skill set, Salas showcases the potential to dominate offensively and solidify his reputation as a formidable presence behind the plate.
---
Top 2023 Bowman Chrome® International Prospects #s 10-6
---
Top International Prospects to Collect
---
More 2023 Bowman Chrome Baseball Coverage
---