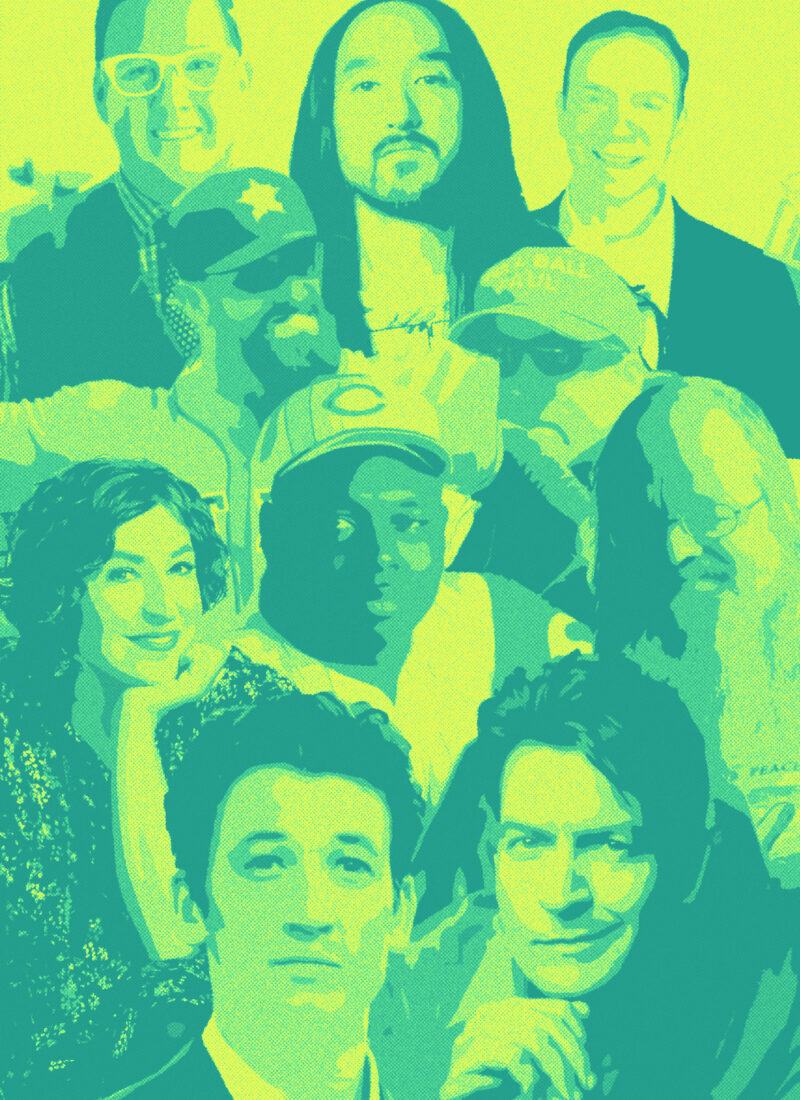 Celeb Grails and More
Topics:
Collecting, How To Collect
Whether you've got a safe full of PSA 10 holy grails or you're still on the hunt for your first big pull, we're all chasing the same thrills in collecting baseball cards. And while most stars may not be all like us, a few have the same hobby!
Check out these celebrities, former big leaguers, and eccentric hobbyists that you might not have known as collectors but who have amassed some of the most enviable PCs in the game.
Mayim Bialik
In addition to being an actress, author, neuroscientist, and Jeopardy! host, Mayim Bialik, is also one of Hollywood's biggest baseball card collectors. Her father, who collected cards dating back to the 1940s, got her into the hobby, and many of those cards have been in her family ever since.
Not as interested in card collecting's potential payday, Bialik is just in it for the love of the game. "Financial component aside, I just really enjoy the activity," she said on an episode of MLB's Carded.
Bialik is partial to Yankees cards since that's her team, and she also loves some of the odder ones in her collection, like ones with silly poses or funny hairdos. She has a 1953 Topps Pee Wee Reese card among her faves.
Dmitri Young
This former pro's collecting obsession started in Little League when he'd grab packs of cards after his games to learn more about the bigs. Once he came up to the big leagues, however, Young's palette became a bit more refined. He hunted rookie cards and high-graded stars, and of course, he needed to grab a few of his own cards, too. He's since had those graded, and yes, they're PSA 10s.
Though he sold a portion of his collection about 10 years ago — including a 1955 Topps Roberto Clemente PSA 10 rookie that went for nearly $500,000 — Young still retains a few cherished cards. He fondly recalled two of his best rookies, Pete Rose and Al Kaline.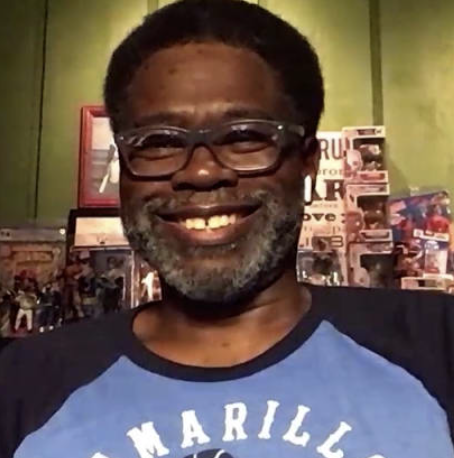 Jefferson Burdick
Jefferson Burdick, an electrician from upstate New York, is known as "The Father of Card Collecting." And although he passed away 60 years ago, his collection lives on—as a featured exhibition at the Metropolitan Museum of Art in New York.
Burdick donated his entire collection of over 300,000 pieces of baseball memorabilia to the Met in 1947, where it's still on display today. Burdick's stockpile is the world's second-largest public collection of baseball cards, behind only that of the Baseball Hall of Fame.
Among those displayed are an 1888 William Ewing for Allen & Ginter cigarettes, a 1938 Joe DiMaggio from the Goudey Gum Company, and a 1952 Bowman Willie Mays.
Pat Neshek
The eccentric reliever might even be a better collector than he was a player (and, for the two-time All-Star who finished with a 2.82 ERA over 13 years, that's saying something). Throughout his career, Neshek has collected over 50,000 autos.
"To me, the fun of collecting is the journey," Neshek said in a feature with eBay. "It's the story behind it."
He cites his 1985 Topps Kirby Puckett autographed rookie card as one of his favorites because it was the one he wanted most as a kid growing up in Minnesota. One of Neshek's favorite games within the game of collecting is attempting to build complete annual sets and get every card autographed. He cherishes his nearly complete 1970 Topps set, in particular.
Neshek has a longtime policy with fellow collectors: If you send him an autographed card—any player, any sport, any condition—he'll send you one of his own back. It's kept him busy in his downtime, and it's kept that legendary collection growing.
Paul Jones
In 2008, the Guinness Book of World Records certified that this Idaho native's collection of over 500,000 baseball cards was the world's largest. Then, it grew to 750,000. Then a million. Then two. Now, well above four million, it's still going.
Barry Jones, Paul's father, credits collecting with helping his son, who has Asperger's syndrome, learn reading, math, and geography. Paul stores his treasure trove in boxes sorted into alphabetical order, and in 2021, the family was building a shed to house the eye-popping collection more properly.
How do you pick a favorite out of millions? Well, Paul does have one: it's his 1986 Mark McGwire rookie card from the slugger's time on the now-defunct Double-A Huntsville Stars. Barry says he and his son picked up that card "for a nickel."
Charlie Sheen
Unfortunately for Charlie Sheen, his collection is more famous for what he sold than what he still owns. In the 1990s, Sheen held a coveted Honus Wagner T206, widely regarded as the holiest grail of them all (and it didn't even matter that it was a PSA 1). He lent it for display at the All-Star Cafe in Times Square, where it was the subject of a bizarre heist by restaurant employees. The FBI safely returned the card to Sheen, and he sold it in 2001.
Well, that very same card went up for auction last year, fetching over $3 million.
Steve Aoki
This DJ is synonymous with celebrity card collecting. He's got a dedicated Instagram account, a few collaborations with Topps, and even a handful of his own cards (he had to buy them, just like anybody else). For Aoki, feelings of nostalgia during the COVID quarantine launched a passion that takes up much of his time off stage. Now he's focusing on grails and cutting some serious checks to build out his collection—over $1 million in total.
"This is going to be an alternative investment," Aoki said in an interview with Graham Bensinger. "I put some serious money in."
His best baseball card is a PSA 10 Mike Trout rookie, but Aoki's collecting transcends baseball, as he's also a massive fan of football and basketball cards. In 2021, Aoki sold a PSA 10 Michael Jordan rookie card for over $300,000.
Ken Goldin
If Aoki is synonymous with collecting, Ken Goldin is synonymous with selling. Goldin is the executive chairman and founder of the eponymous marketplace and auction house, and he'll soon be the star of The Goldin Touch, a behind-the-scenes reality series that'll appear on Netflix this year.
Goldin, who started buying and selling memorabilia as a kid, is especially drawn to vintage.
"I like really old cards," he said in a feature with Sports Card Investor. "I think that the old cards had such amazing art." One of his favorites is a 1911 Tris Speaker.
Goldin is also drawn to vintage boxes, and one goal of his is to get every Topps and Bowman box from the 1950s and 1960s.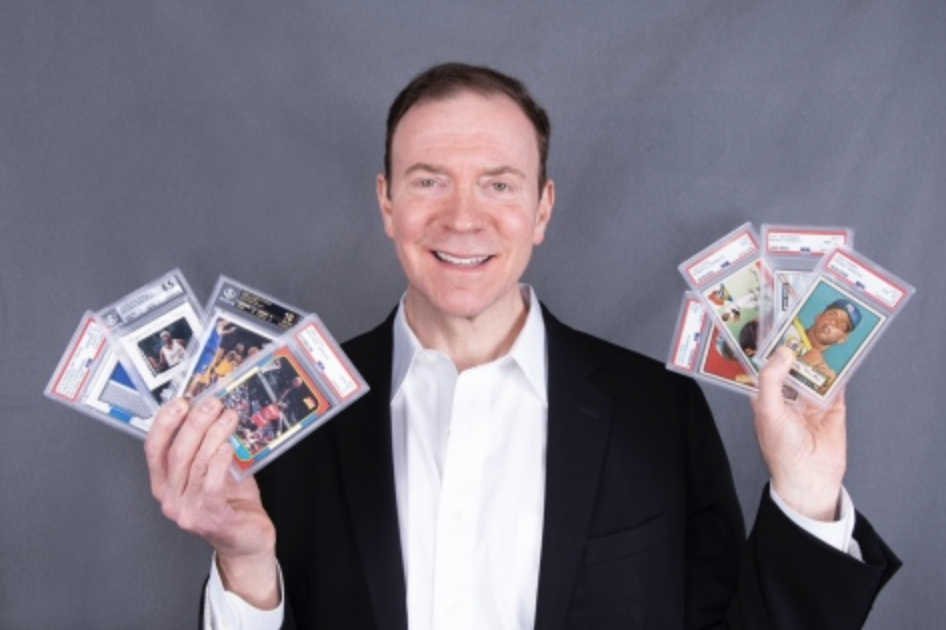 Graham Elliot
A Navy brat whose family moved around the world frequently, this celebrity chef was initially drawn to card collecting because it was a way to stay connected with his home country.
"I loved that no matter where I was, baseball still made me feel American. It centered me," he said on Carded. Eliot's favorites include a 1911 Christy Mathewson, a whole lineup of Babe Ruth cards, and his grail, a 1952 Topps Mickey Mantle.
But only one card has the most sentimental value for him: a 1993 Upper Deck Brady Anderson. During a turbulent time in his childhood, Elliot saved up just enough money to mail out about 50 cards and return envelopes to players at Spring Training. He only received one back: Anderson's. To this day, Elliot fondly recalls how much it meant to him.
Miles Teller
The star of Top Gun: Maverick became a fixture in the seats behind the plate during the Philadelphia Phillies' 2022 playoff run, with clips of him going crazy generating as many headlines as the team itself. Teller brings the same passion to collecting, a hobby that dates back to his childhood.
This past summer, Teller participated in an event with eBay, during which he had to grab five of his favorite cards in 15 minutes with a $25,000 budget. Among his selections were a 1952 Topps Willie Mays, a 1989 Ken Griffey Jr. rookie, and a 2001 Topps Chrome Albert Pujols rookie.
"I love that you can look at a card, and it can take you back to where you were when you got it," Teller said at the event. "They're really timepieces. They put a stamp on what was going on then."
BONUS: Logan Paul
As he neared the end of his baseball career, Neshek noticed that the game's younger players, like Rhys Hoskins and Brett Phillips, were getting back into collecting because it reminded them of a nostalgic activity outside of sports.
"The players born in the '90s were Pokémon kids, and now it's fueling this new craze in sports cards as well," Neshek said. "There are way more people in Major League Baseball right now who are into card collecting than ever before."
If Pokémon is a gateway to collecting, then keep an eye on influencer Logan Paul, who might be the world's authority. Last year, Paul bought a PSA 10 Pikachu Illustrator for over $5 million, a world record for the most expensive Pokemon purchase. He then famously trotted it out inside an $80,000 diamond pendant at WrestleMania 38. Aoki has the same card, but it's worth quite a bit less than a PSA 9.
Though Paul also fell victim to a high-profile scam — he dropped over $3 million on a Pokémon box that actually contained a bunch of worthless GI Joe cards — his wins have been much bigger than his losses.