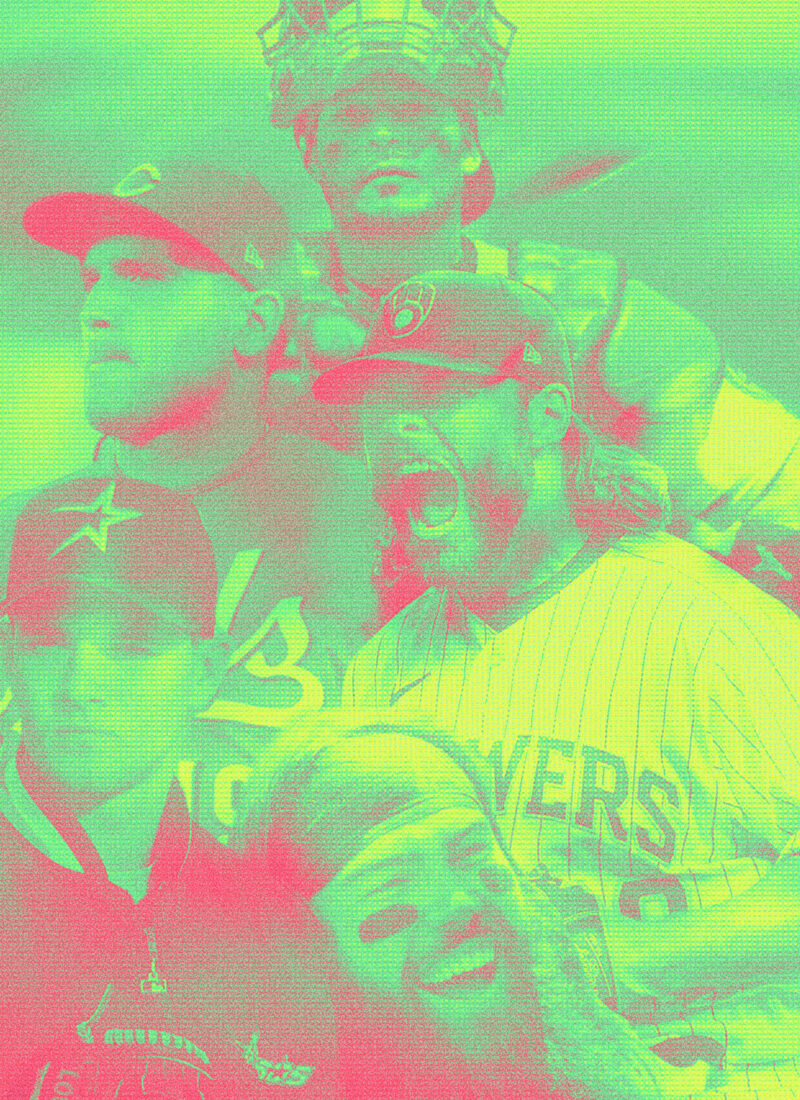 From Filler to Killer
Topics:
Baseball, Collecting, Topps Series 1
Topps Series 1 has long been the preeminent set in the world of baseball card collecting, and many of the sport's top stars have seen their rookie cards released in the set.
Some of those players, such as New York Yankees outfielder Aaron Judge, Houston Astros outfielder Yordan Alvarez, Toronto Blue Jays shortstop Bo Bichette and Tampa Bay Rays shortstop Wander Franco received a ton of hype ahead of their Topps debuts and were highly sought after by collectors.
Others managed to fly under the radar, which is no small feat since Topps Series 1 has always been under the microscope and followed closely by collectors due to its iconic status in the baseball card world.
Less-heralded prospects tend to see their rookie card releases come in Series 2 or update sets, but since Topps broke its baseball card set into two series for the first time in 1993, a handful of players and cards have far exceeded collector expectations.
As collectors gear up to collect all of the hottest rookie cards in Topps Series 1 2023, here is a rundown of the greatest sleeper hits to come out of Series 1 over the past 30 years.
Brandon Marsh, OF, Los Angeles Angels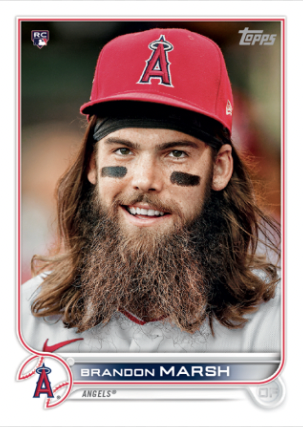 Outfielder Brandon Marsh is only two years into his MLB career, but he has already gained a cult following thanks to his unique look.
Much like Jayson Werth during the Philadelphia Phillies' run to the World Series in 2008 and 2009, Marsh became hugely popular with Phillies fans and baseball fans in general last season thanks to his trademark long hair and beard.
It also didn't hurt that Marsh was a key figure in one of the most exciting postseason runs in recent memory, as the Phillies went from a forgotten wild-card team to a World Series squad that fell just short against the Houston Astros.
Marsh was originally a second-round draft pick by the Los Angeles Angels in 2016, and he spent parts of his first two seasons in L.A. before getting traded to the Phillies in August.
In 41 regular-season games with the Phillies, Marsh hit .288 with three home runs, 15 RBI, and two stolen bases, giving him a .245 batting average with 11 homers, 52 RBI, and 10 steals on the season.
Marsh then hit just .179 during the playoffs, but he came up with some key plays at the plate and in the field and finished the postseason run with two dingers, five RBI, one stolen base, and five runs scored.
It remains to be seen if Marsh will ever reach All-Star status, but even if he doesn't, his 2022 Topps rookie card with a short-printed image variant promises to hold value.
Billy Wagner, RP, Houston Astros
Relief pitcher cards don't tend to achieve great value unless they are the best of the best, and there is little doubt that Billy Wagner is one of the greatest closers of all time.
The Houston Astros selected Wagner with the No. 12 overall pick in the 1993 MLB draft with the intention of keeping him in a starting role, and that was the case during the few years he spent in the minors.
Wagner made his Major League debut in 1995 as a reliever, however, and he would go on to appear in 853 regular-season games during his 16-year MLB career, all of which came out of the bullpen.
That could have easily capped the value of his 1994 Topps rookie card, but Wagner instead established himself as an all-time great and potential future Hall of Famer.
During a career that spanned 16 seasons with the Astros, Philadelphia Phillies, New York Mets, Boston Red Sox, and Atlanta Braves, Wagner was a seven-time All-Star and one-time Reliever of the Year. He also registered 422 saves, which is sixth on the all-time MLB list.
Additionally, Wagner posted a 47-40 record, 2.31 ERA, 0.99 WHIP, and struck out 1,196 batters in 903 innings pitched.
Wagner has been receiving more and more Hall of Fame support in recent years, and he finally cracked the 50 percent barrier last year with 51.0 percent of the vote.
It seems likely that he will be enshrined in Cooperstown one day, and if that happens, the gold variant of his 1994 Topps rookie card will skyrocket in value even more.
Corbin Burnes, SP, Milwaukee Brewers
Just five years into his MLB career, Milwaukee Brewers ace Corbin Burnes is already widely regarded as one of the best pitchers in baseball.
The 28-year-old hurler has been named an All-Star in each of the past two seasons, and he won the National League Cy Young Award in 2021 when he went 11-5 with a 2.43 ERA, 0.94 WHIP, and 234 strikeouts in just 167 innings pitched.
Burnes was a fourth-round draft pick in 2016, and he made his MLB debut in 2018 as a reliever. Despite not being part of the starting rotation, Burnes did capture the attention of collectors by going 7-0 with a 2.61 ERA in 30 relief appearances as a rookie.
He was tabbed to be a starter in 2019, but he was moved back to the bullpen after an awful start and was eventually shut down for the season due to a shoulder injury. All told, Burnes went 1-5 with an 8.82 ERA.
Interest in Burnes' rookie card cratered after that performance, but he bounced back in a big way during the COVID-shortened 2020 campaign, going 4-1 with a 2.11 ERA in 12 appearances, including nine starts.
Burnes then won the Cy Young Award out of nowhere in 2021 and maintained his level of play last season, making his cards more desirable than ever.
While Burnes' Topps Chrome rookie cards are even more valuable, his original Topps Series 1 rookie card will climb in value if he stays on his current trajectory.
Joey Votto, 1B, Cincinnati Reds
While there was some belief early in his career that he could become a star, few could have expected the remarkable career Cincinnati Reds first baseman Joey Votto would ultimately put together.
Selected in the second round of the 2002 MLB draft, it took the Canadian slugger quite a while to reach the Majors, not debuting until his age-23 season in 2007. After getting a small taste of the big leagues, Votto hit .297 with 24 home runs and 84 RBI in his official rookie season in 2008, finishing second in the National League Rookie of the Year voting.
Votto would go on to earn six All-Star selections and one Gold Glove Award, plus he was named National League MVP in 2010 when he slashed .324/.424/.600 with a career-high 37 home runs and 113 RBI.
Although Votto's traditional numbers may not jump off the page compared to some of the other stars of the past few decades, it is tough to deny his status as an elite player during his 16-year career.
Votto only reached the 30-homer and 100-RBI marks three times each, but he led the NL in on-base percentage seven times, plus he hit .300 or better nine times and enters 2023 with a career batting average of .297.
The lefty slugger also owns a career OBP of .412 to go along with 342 home runs, 1,106 RBI, and 1,338 walks.
Those numbers may not have been enough to warrant serious Hall of Fame consideration in the past, but with increased emphasis on analytics and favor for players believed to have been clean throughout their careers, Votto has a very strong case.
His Topps rookie card value continues to rise in apparent anticipation of an eventual Hall of Fame induction, so now is the time to jump in.
Yadier Molina, C, St. Louis Cardinals
There is no greater example in the history of Topps Baseball Series 1 of a player who went from overlooked to legend than longtime St. Louis Cardinals catcher Yadier Molina.
Yadi was a fourth-round draft pick by the Cards in 2000 based largely on his elite defensive traits behind the plate. He wasn't viewed as a player who would put up big offensive numbers, and while he was solid at the plate in four minor-league seasons, his numbers were relatively modest.
There typically isn't a ton of interest in a hitter's rookie card if there isn't some belief that they can hit for a high average or club a lot of home runs, and that is why Molina managed to fly under the radar.
All the backstop from Puerto Rico did after that was spend 19 seasons in the Majors with the Cardinals, earning 10 All-Star nods, nine Gold Glove Awards, four Platinum Glove Awards, one Silver Slugger Award, and two World Series championships.
His career offensive numbers aren't spectacular, but they are relatively strong for a catcher, hitting .277 with 176 home runs and 1,022 RBI.
Those stats are secondary, though, since Molina is unquestionably one of the greatest defensive players of all time, regardless of position. Ivan Rodriguez and Johnny Bench are the only catchers with more Gold Gloves than Molina, and no NL catcher besides Molina has ever won the Platinum Glove.
Along with Albert Pujols and Adam Wainwright, Molina will always be synonymous with the Cardinals' remarkable success in the 2000s and 2010s, making him a celebrated member of one of the most storied franchises in baseball.
A high-grade 2004 Topps Molina rookie card is already going for big money, and when he is inevitably inducted into the Hall of Fame, it promises to reach even higher levels.