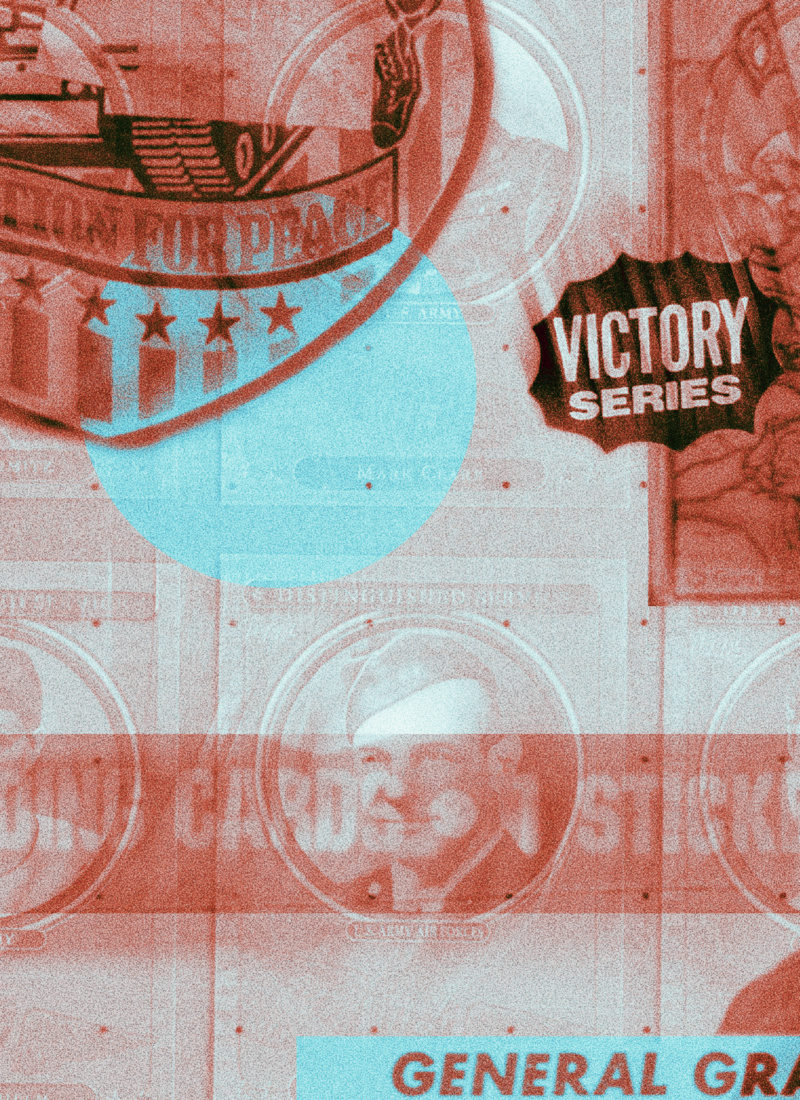 Cards as Memory
Never forget.
That's a refrain you see repeatedly on social media a few times every year, usually to mark important occasions like Veterans Day or the anniversaries of Pearl Harbor and 9/11. But what does that actually mean? How does one never forget?
The primary way we do that is to share stories, to educate better those that lived through it so that those who come later might still understand. And throughout its 70-plus-year history, Topps has been committed to sharing the stories of soldiers and military personnel with trading cards that memorialize their sacrifices.
As we celebrate Memorial Day, dive into Topps' rich history of cards honoring brave soldiers that have died serving their country.
The Beginning
The first trading card set to depict war scenes is one of the most famous sets of all time, sports or otherwise: The Horrors of War from Gum, Inc., in 1938.
The brainchild of Gum, Inc. President Jacob Warren Bowman (whose organization would later take its founder's name and become the brand you know today), The Horrors of War started as a 240-card set that featured lithograph prints from three major global conflicts from the era: the Spanish Civil War, the Second Italo-Ethiopian War, and the Second Sino-Japanese War. A 48-card supplemental set that notably chronicled Adolf Hitler's rise to power was eventually released to bring the total number of cards up to 288.
In Bowman's eyes, the cards aimed to educate the American public about international affairs and discourage fighting. (At that time, Americans didn't see many images from war; they lived thousands of miles from battle scenes, and most homes didn't yet have televisions.) That position was distilled into a slogan printed on the back of every card in the set: "To know the HORRORS OF WAR is to want PEACE."
The cards generated great controversy for their unsparing depictions of gory, bloody battles. But that didn't stop them from becoming hot sellers. "In many cases, the most popular trading card sets are also some of the most controversial," wrote Ryan Cracknell for The Cardboard Connection.
And The Horrors of War wasn't just popular with everyday collectors: The cards even found their way into the Oval Office. President Franklin D. Roosevelt was a fan of the set, and he used the cards as aids to help educate Americans on the conflicts that were destroying countries around the world.

Meanwhile, Topps' earliest card set honoring those in the military came even before the landmark 1952 Topps Baseball. 1950 Topps Freedom's War was a 203-card set that featured moments, people, and machinery from the Korean War. One of the most popular cards features General Dwight D. Eisenhower, who was on the verge of becoming president.
Honoring the Ultimate Sacrifice
Following those groundbreaking and memorable sets, war cards became more commonplace. About a decade after the Korean War cards, Topps released a set marking the centennial of the American Civil War, which became one of the most popular non-sports card sets of the 20th century. Each entry in the 88-card 1962 Topps Civil War News set included an artistic interpretation (many of them from popular commercial artist Norman Saunders) of a specific moment from the war with a replica newspaper clipping on the back.
Later, Topps continued to expand its range outside of sports by releasing a new war card set honoring those participating in Operation Desert Storm in the Gulf War. The 1991 Topps Desert Storm set was large — a three-series set totaling 264 cards and 44 stickers — and its purpose was to explain the war matter-of-factly.
"(These cards) can be used as an educational tool, especially for children," said Tim Boyle, a Topps spokesperson, in an Associated Press interview from the time.
But creating trading cards depicting soldiers isn't the only way Topps has paid tribute to them. Around the same time in 1991, Topps produced a special edition of its flagship baseball line to be given exclusively to military personnel fighting overseas. According to the company, it was a way to honor the soldiers' sacrifices by giving them a slice of home, however small it may be. As part of the initiative, each service member participating in the Gulf War was to receive one 15-card pack of the 1991 Topps Baseball Desert Shield limited edition set. The cards were almost identical to Series 1, except they included a gold foil Desert Shield emblem on the front.
Even if every single card produced still existed today, they'd still be pretty rare — experts estimate that only about 6,000 copies of each Desert Shield card were printed. Additionally, since the cards were intended only as gifts for military members, no complete sets were ever issued. (So, if you wanted to check every card off your list, you'd have to chase them all individually.)
Most cards in the set have significantly less than 6,000 copies in circulation today. Many boxes of cards never actually reached the troops abroad, and many of those that did were discarded by service members who weren't collectors. As such, these cards are highly valuable in the present. One of the most sought-after cards from the set is that of Mariners outfielder Ken Griffey Jr. (because, well, who else?). The Kid's PSA 10 Desert Shield card is currently selling for five figures on the secondary market. Chipper Jones, third baseman for the Braves, is also selling for sky-high sums.
Always Remember
In the 21st century, Topps has made two card sets that honor those in the military. One was in the aftermath of September 11th, a set called 2001 Topps Enduring Freedom. Released in October, just a month after the attacks (an unprecedented turnaround in an industry that wasn't always known for its speed), Topps Enduring Freedom featured the major politicians, armed forces, and machinery involved in the global response to terrorism.
Arthur Shorin, the CEO of Topps at the time, said in an interview with CBS News that the set was a way to speak to a generation of kids at their level.
"Kids need to get information on their own terms," Shorin said. "This is their medium."
Though the set did not include any imagery of the victims, impacted buildings, or rubble, it did generate controversy for another reason: One card in the set depicted Al-Qaeda leader Osama bin Laden, describing him as "The Suspected Ringleader." It was treated dramatically differently than every other card — while most in the set had red, white, and blue borders with color images and a prominent "Enduring Freedom" logo, bin Laden's card consisted of an unadorned black-and-white portrait. Shorin said he envisioned that American kids might want to deface bin Laden's card upon pulling it out of a pack.
Though a second set inspired by the American military was in the works, Enduring Freedom only sold modestly, and that follow-up was scrapped. But another military set did come later, a rare crossover with Topps' sports presence. 2007 Topps Distinguished Service shone a light on members of the Armed Forces during World War II, including a few notable baseball players who put their careers on hold to fight, like Red Sox outfielder Ted Williams and Negro Leagues legend Monte Irvin. Each card lists the branch of the military for which the individual served — the Marines for Williams, the Army for Irvin, and the Navy for Hall of Fame pitcher Bob Feller.
While sports is Topps' bread and butter, there's a deep tradition of trading cards that honor military service. This Memorial Day, consider the soldiers described above and all those who gave their lives to defend American freedom.