An Epic Day Celebrating the Hobby
Topics:
Brick and Mortar, How To Collect, Topps Hobby Rip Night
The first-ever Topps Hobby Rip Night took place September 30, at hobby shops nationwide. Rip Night celebrated the hobby where novice and seasoned collectors – and some special, surprise guests – came together to rip packs, trade, and share the fun and excitement of the Hobby at their local shop. With more than 300 hobby shops participating nationwide, this was one of the biggest events in collecting in recent history.
So check out some of the most amazing moments from shops across the country below, because you never know what could happen at the hobby shop.
---
MLB Flagship Store – NYC
Stop me if you've heard this one before: the GOAT, the Fanatics founder, a hobby and sports journalist, and a member of the Fab Five walk into a hobby shop . . . Guess what, that happened!
Tom Brady, Michael Rubin, Alex Giaimo, and Jalen Rose all celebrated Topps Hobby Rip Night at the MLB Store in NYC. The star power was in full effect, but the real draw of the event was the collectors coming together and sharing their love of the hobby. But being able to trade with Tom Brady is pretty dope, too.
---
Wax, Packs, and Throwbacks – Linwood, NJ
Wax, Packs, and Throwbacks went big for its Topps Hobby Rip Night celebration. The shop was buzzing with collector excitement. In addition to all the ripped packs, pack wars, trading, and even video games, collectors had the opportunity to meet Michael Rubin, Travis Scott, Tom Brady, and Kevin Hart.
Kevin Hart, Michael Rubin, Tom Brady, and Travis Scott – sounds like a new JACKBOYS album might be in the mix.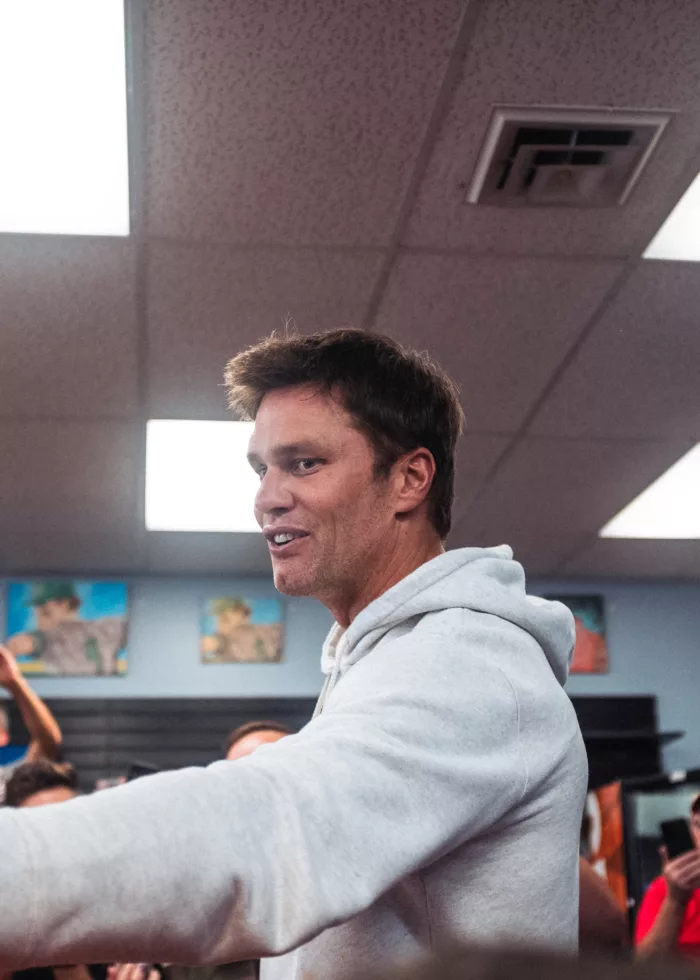 ---
Card Vault – Foxborough, MA
Card Vault Foxborough hosted Jayson Tatum for some Boston Hobby Night excitement. Taco Jay made sure to trade for Red Sox RCs, and gave the first collector to pull his favorite player – Rafael Devers, obviously – a Tatum swag pack.
What's better than Foxborough on a Sunday? Topps Hobby Rip Night in Foxborough on a Saturday.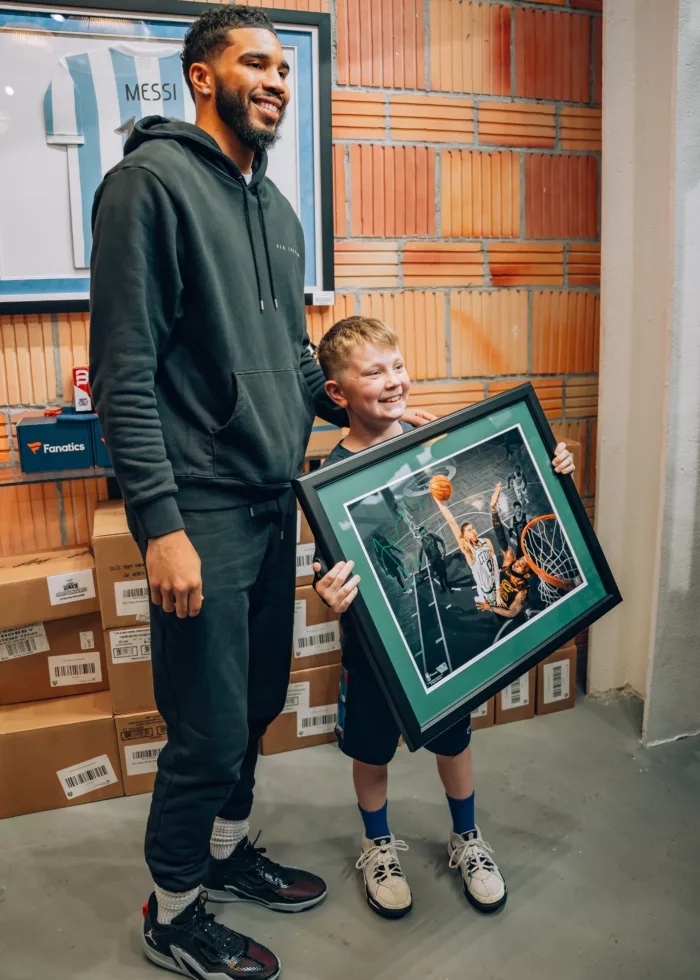 ---
Rip Valley – Pheonix, AZ
Corbin Carroll, center left; Evan Longoria, center right
Imagine hitting up your local hobby shop and running into the possible NL Rookie of the Year, and a former AL Rookie of the Year. That's exactly what happened at Rip Valley in Phoenix, Arizona, during Topps Hobby Rip Night. Corbin Carroll and Evan Longoria surprised collectors at the shop, and the pair of Diamondbacks got into the swing of things ripping packs, trading with collectors, and amping up the excitement level of the event.
---
Cardiac Sports & Memorabilia – Apex, NC
What's better than one UNC Tar Heel? Two UNC Tar Heels, of course. UNC hardcourt hero Armando Bacot and UNC QB1 Drake Maye got in on the Topps Hobby Rip Night fun at Cardiac Sports & Memorabilia.
Bacot went in on some pack wars, and Bacot and Maye elevated everyone's heart rate with a Bowman U Chrome rip party. No wonder the hobby shop has "Cardiac" in its name.
---
Hoody's Collectibles – Beaverton, OR
Hoody's Collectibles in Beaverton, Oregon, got into the Topps Hobby Rip Night action with special guest Scoot Henderson, the 3rd pick in the 2023 NBA Draft. Henderson ripped packs, traded, signed autographs, and took a bunch of selfies with collectors in the shop. One of the newest and most-hyped members of the Trailblazers knows how to ingratiate himself with the hometown fans and hobby shop.