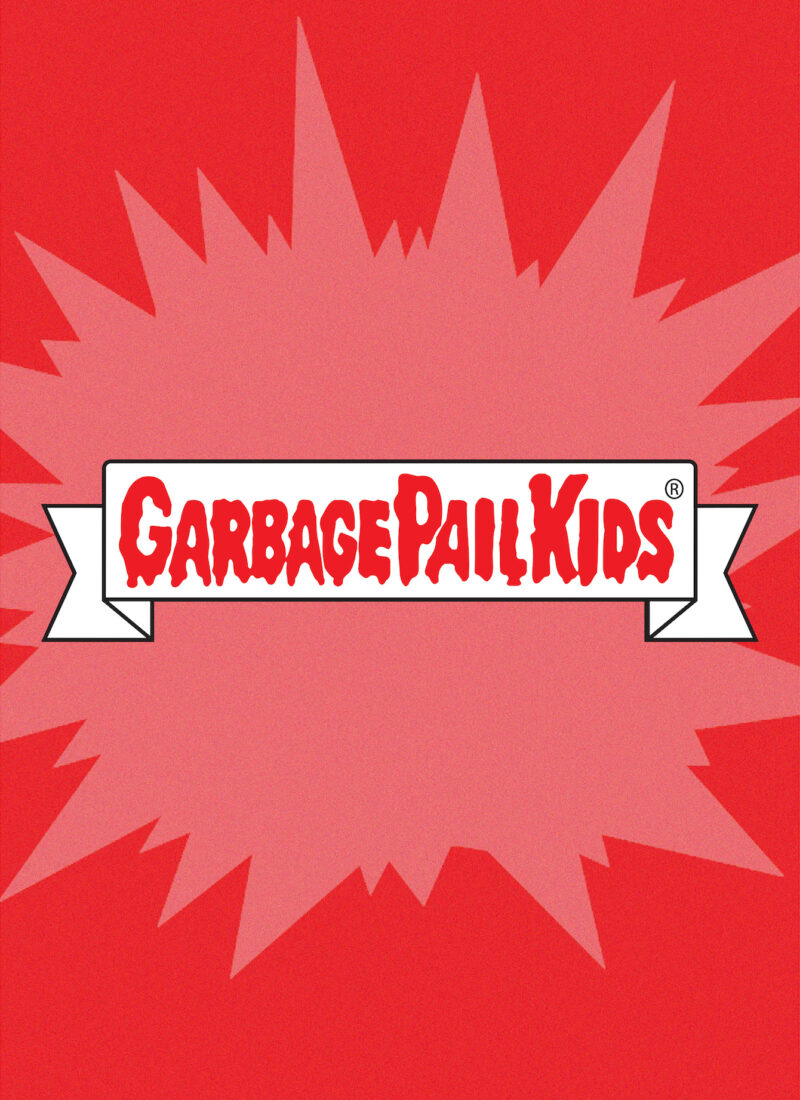 Debut Year:
1985
Art Spiegleman creates Garbage Pail Kids.
Licensors:
Topps
This is an original Topps IP product.
Value Level:
Accessible
Garbage Pail Kids offers something for every price point: online and retail sets for the entry and mid-level collectors; Chrome and Sapphire sets for the premium collector.
WHO IS GARBAGE PAIL KIDS FOR?
Garbage Pail Kids' primary audience continues to be collectors who grew up with the original '85-'88 releases. Since Garbage Pail Kids' return in 2003, the brand has broadened its satiric targets in pop culture – reality TV stars, movies, and the WWE, among others – for a new generation of collectors.
THE HISTORY
Created by renowned cartoonist Art Spiegleman, Garbage Pail Kids debuted in 1985. In many ways, Garbage Pail Kids was a follow-up to Topps Wacky Packages, a spoof on household and grocery store products. By the mid-1980s, Wacky Packages had peaked and been put on hiatus, so the market was ripe for an updated series of satiric culture cards.
Enter Cabbage Patch Kids. Initially released in 1983, by 1985, these dolls were unbelievably popular – and ripe for parody. After a licensing deal fell through, Garbage Pail Kids aimed and hit so close to the mark that the makers of Cabbage Patch Kids sued Topps over copyright and trademark infringement sued Topps. The suit and publicized bans of the sticker cards by schools and parent groups made Garbage Pail Kids an overnight sensation. Between 1985 and 1988, Topps released 15 series. After the initial series run, Garbage Pail Kids would be retired for fifteen years. In 2003, the brand returned, and it has continued to run ever since. As Garbage Pail Kids has developed over the years, it has maintained its satiric edge, continuing to parody pop and celebrity culture.
THE ARTISTS
Part of the enduring cultural success of Garbage Pail Kids rests on a cast of artists who've created these images over the last four decades, including John Pound, Tom Bunk, Jay Lynch, Jeff Zapata, James Warhola, Brent Engstrom, Joe Simko, Dave Gross, Smokin' Joe McWilliams, and Neil Camera, among others. In October 2022, Topps released GPK x MLB Series 1 in collaboration with the artist Keith Shore featuring Garbage Pail Kids-style rendition baseball cards of MLB players. GPK x MLB Series 2 was released in January 2023 in collaboration with Alex Pardee – the Alex Pardee collaboration is the largest single box release.
WHY IT MATTERS
For almost forty years, Garbage Pail Kids has oozed a filthy throughline between the worlds of art, comics, graphic design, comedy, and popular culture. From the beginning of the brand, Garbage Pail Kids' uniquely twisted sensibility was honed by artists who developed their style in the world of comix, comics, and Mad Magazine. You can identify the influence of Garbage Pail Kids' blend of irreverence and parody in contemporary art, including Keith Shore, Alex Pardee, Ron English, Matt Gondek, and KAWS, among many others. Garbage Pail Kids is also one of the few IPs Topps has created its long history.
WHAT AM I CHASING?
So much of the appeal of Garbage Pail Kids for collectors comes from Set Collecting or collecting a single character, most notably Adam Bomb – Garbage Pail Kids appeals to the Completist. However, the big Hits here are Sketch Cards of characters. Sketch cards are one-of-one, hand-drawn cards signed by the artist.
Now is the perfect time to get grossed out by Garbage Pail Kids.