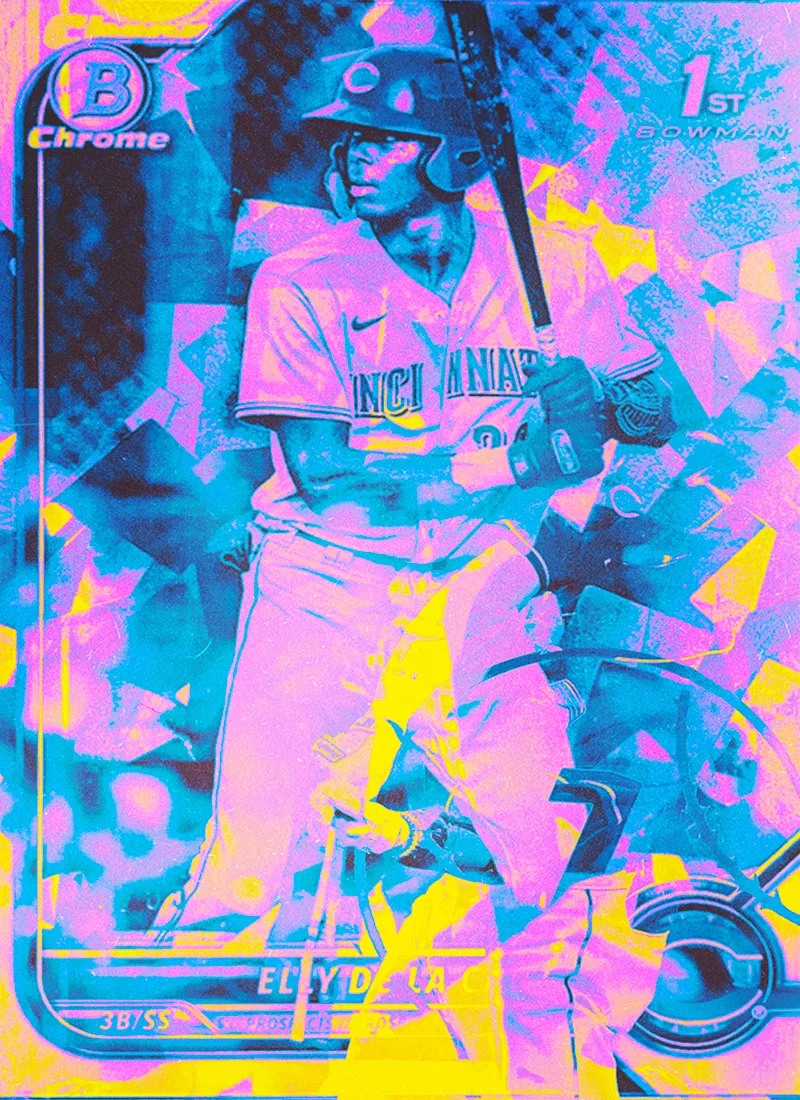 10 Elly De La Cruz Cards to Collect
Topics:
Baseball, Elly De La Cruz, How To Collect
On June 6, 2023, the Reds hit the go button, calling up Elly De La Cruz, the switch-hitting, fast-footed, hard-throwing infielder from Sabana Grande de Boya, Dominican Republic. The No. 1 prospect – according to ESPN.com – wasted no time acclimating himself to the Bigs, causing social media and media outlets from across the globe to erupt as he put on a show in his first few appearances. Many are already predicting De La Cruz to be an all-time great, and if the fortune tellers are really on their Ms. Cleo, his cards could be some of the most valuable ever to hit the market. Let's step into the world of Elly De La Cruz cards. As the kids would say, "he's just different."
2023 MLB TOPPS NOW® #Card 400 Elly De La Cruz
This card was on Topps.com and sold out faster than one of these new-age innings. I kid you not. The game-used Elly De La Cruz Relic from his second career appearance, Cincinnati's 8-6 win over the Dodgers on June 7, sold out in exactly three minutes. The hype is real. All aboard! The Elly De La Cruz train has arrived.
2023 MLB TOPPS NOW® #400 Elly De La Cruz
Topps caught the Elly De La Cruz train as soon as it hit the station and produced a Topps Now card for his debut vs. Los Angeles on June 6. After drawing walks in his first two at-bats, the phenom belted a 112-MPH double — highest EV by a Reds player to that point — and sprinted to second base in a blazing 7.74 seconds. This card commemorates the special moment.
2023 MLB TOPPS NOW® Card 402 Elly De La Cruz/Will Benson
You thought the Elly De La Cruz x Topps Now train stopped after the first two cards? Ha! Topps continued its coverage of De La Cruz's epic June 7 with another card, but this one is a dual. In the Reds' victory, De La Cruz and Will Benson became the first Reds teammates to hit their first career homers in the same game since 1907. What a day!
2022 Bowman Chrome Prospects Aqua Refractor #BCP-50 Elly De La Cruz
Ahhh. Here, we have Elly De La Cruz's first Bowman, but with the Aqua Refractor. This card has a lot going on, but I find it aesthetically pleasing. It's like Elly De La Cruz stars in Aquaman. He's pretty much a superhero, right?
2022 TOPPS PRO DEBUT BRICK BY BRICK #BB-1 ELLY De La CRUZ
The 2022 TOPPS PRO DEBUT BRICK BY BRICK #BB-1 ELLY De La CRUZ RC is special for several reasons. One, the design is magnificent. Secondly, what the brick-by-brick represents. De La Cruz's path to the Big Leagues had its fair share of challenges. He moved away from home to pursue baseball at six. He was overlooked several times while trying to find his footing among the best players in the DR. De La Cruz even thought about quitting. But instead of faltering, the slugger built up his game brick by brick, found his way into the Reds' organization, and has since become one of the game's top prospects and must-see TV. We live for feel-good stories.
2023 MLB TOPPS NOW® #485 Elly De La Cruz
This kid can't be real. His first MLB hit was a double. He went yard in only his second game. And…. drumroll, please. On June 23, 2023, he became the first Reds player to hit for the cycle since Eric Davis in 1989 and the youngest player to do so in 51 years. With all this talk of UFOs, it wouldn't be surprising if Elly De La Cruz arrived in the Bigs straight off the mothership. He just can't be real.
2023 MLB TOPPS NOW® #541 Elly De La Cruz
Certain things are only believable if seen. I had the pleasure of watching this next feat from De La Cruz on my handy dandy television. While spending a listless Saturday tuned into the Las Vegas Summer League, I randomly turned on the Reds' July 8 matchup vs. the Brewers during a commercial break. Guess who was up to bat? The boy Elly De La Cruz. De La Cruz swiftly stole second after driving a single into the outfield for the go-ahead run in the seventh inning. Then on a 1-2 pitch, the speedster stole third without even the thought of a throw. As the pitcher meandered back to the mound, the heady rookie took off toward home, stole it, and added another run to Cincinnati's lead. Incredible. And you know Topps had to make a card to commemorate the feat, as he became the second player since 1961 to steal three bases in a plate appearance. Cincy won, 8-5.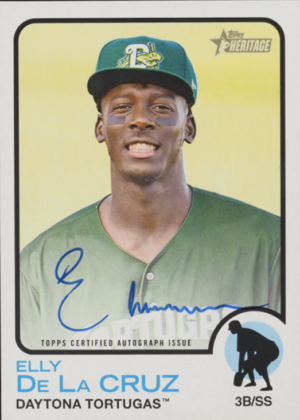 2022 Topps Heritage Minors Auto Elly De La Cruz
Before De La Cruz launched his major league career, he honed his skills in Daytona, creating standout moments for the Tortugas — the Reds' Single-A affiliate. 'Tortuga' is Spanish for 'turtle,' but from what we've seen of De La Cruz, he's anything but slow. He once clocked in an infield throw at a stunning 93 MPH. It wouldn't surprise me if that's a record speed for the Tortuga alum.
2022 Bowman Chrome Shades of Greatness #SG-30 Elly De La Cruz
No need for an elongated paragraph. The name on this card tells the story. De La Cruz flashes shades of greatness every time he steps onto the field. Yes, my friends. We're watching a future legend.
2023 Bowman Sights on September Auto Elly De La Cruz
Another fitting name for an Elly De La Cruz card. Since he's been called up on June 6, 2023, the Reds have gone 22-8, taken over the NL Central Division lead, and have their sights squarely set on September. That all is great in itself. But there are only 30 of these Elly De La Cruz 2023 Bowman Sights on September in existence. This is a rare gem of Elly's early career cards.
Bonus: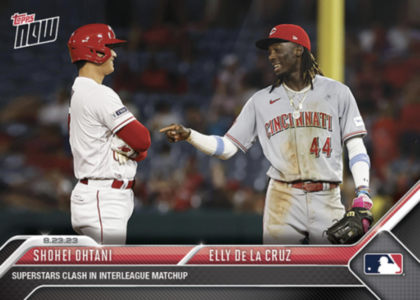 2023 MLB TOPPS NOW® #750 Elly De La Cruz/Shohei Ohtani
On August 23, 2023, baseball fans were treated to a clash of titans. The face of The Big Leagues, Shohei Ohtani and his Angels went head-to-head with one of the game's rising stars, Elly De La Cruz, and the Reds in a doubleheader. Though the Reds took home wins in both games, individual brilliance was the order of the day. In the first game, Ohtani showcased his power with his 44th homer of the season, while De La Cruz lit up the field, hitting a home run and racking up 6 RBIs. Both stars recorded a hit in Game 2, wrapping up a day filled with highlights and primetime moments.