Immortalizing College Football
Topics:
College Football, feature editorial, Football, How To Collect
There's just nothing like a fall football gameday.
Campus starts buzzing days before Saturday. Fervent fans fill up the tailgating lawns and parking lots bright and early, whether kickoff is at noon or dusk. Attend a game once, and the sights and sounds of gameday — the thunderous marching bands, the raucous student sections — will crystallize in your memory for years to come.
The best college football trading cards capture those feelings, too. Although it might feel like trading cards for the college game are relatively new (read on to learn why), the Hobby actually has a rich history with college football. Here, we'll explore a few classic college football card sets from the early 20th century, explain why they weren't permitted for so long, and dive into a few new collections that are worth the Hobby's attention.
The Opening Drive
The first football card (which we discussed in much deeper detail here) depicted Yale University quarterback Harry Beecher (sometimes called Henry Beecher — his birth name). Beecher was the starter and captain of Yale's undefeated national championship team in 1887.
Harry Beecher
Beecher's card appeared in a mixed set that showcased athletes from various sports. The company behind the card, Goodwin & Co., was an American tobacco manufacturer, as were most other trading card creators in the 19th and 20th centuries. About seven years later, another tobacco company called Mayo Tobacco Works created the first football-only card set: the 1894 Mayo Cut Plug Football N302. It highlighted players from the era's three primary Ivy League powerhouses: Yale, Harvard University, and Princeton University.
The simple, sepia-toned cards feature a black border surrounding a posed portrait of the player. The bottom of each card lists the player's last name and school, along with Mayo's logo and slogan — all of them except for one, that is. One of the 35 cards didn't print the player's name or team, and that card has become one of the most sought-after pieces of cardboard in the history of collectibles.
Mr. Anonymous, aka John Dunlop
In time, "Anonymous" was determined to be Harvard halfback John Dunlop, who played for the team from 1893 to 1896. After graduating, Dunlop headed across town to become the head coach at Boston College, where he led the team to 16 wins over his four seasons at the helm.
It is believed that only a handful of copies of Dunlop's anonymous card were ever printed, and even fewer of them have known whereabouts today (fewer than a dozen copies have been graded). In 2012, one Michigan family found a Dunlop card in a binder in their farmhouse; upon inspecting the card, shop owner Lou Brown called it "the rarest football card in existence."
Other companies released unique sets of college cards before the post-war heyday of collectibles. One of them was S. Anargyros Tobacco Company, which published two sets of cards from 1909 to 1911: T51 Murad College Sports and T6 Murad College Series Premiums. Both sets feature colorful illustrations of generic athletes in action. The T6 set was small, consisting of only 25 cards, but at five inches by eight inches, the size of the cards was much larger than collectors are used to today. Part of the reason that the checklist was small, according to Pre-War Cards, was that the T6 set was a special mail-in premium issue; collectors needed to acquire and return coupons to the company to receive the cards back in the mail.
T6 Murad College Series Premiums
In addition to football, it showcased basketball, baseball, and hockey players (along with four cards that weren't specific to any sport — they just depicted the school's seal and a pennant).
The T51 set, meanwhile, was much larger — it consisted of 150 cards. You'll see a few schools in the checklist that aren't entirely known for being athletic powerhouses today, like Williams College, Washington & Lee University, and the City College of New York.
Post-War Gems
Topps came on the scene in the early 1950s, and while its early entries in the baseball card market (especially 1952 Topps Baseball) are still beloved today, its first all-football card set hasn't always been received so positively. For starters, the cards in 1950 Topps Felt Backs Football are small, with a length of less than one inch. That's because Topps included cards inside the packaging for its chewing gum, rather than slipping a stick of gum inside a pack of larger cardsase most other manufacturers did.
But that's only the start of the weirdness because, as the name indicates, the back of this set of cards is made of felt. Unlike most other cards, there are no statistics (or information of any kind) on the back, perhaps due to the miniscule size of the card. Instead, the backs feature a pennant of the player's school. The top card in the '50 Felt Backs is that of Joe Paterno, who starred as a quarterback at Brown University before serving as a coach at Penn State for over 60 years. Another notable player in the set is two-way lineman Leon Hart, who won the Heisman Trophy for his play with the University of Notre Dame in 1949.
It didn't take long for Topps to create a distinctive college football set that's still regarded as one of the best releases ever. 1955 Topps All-American Football consisted only of college players, as chief rival Bowman held the exclusive license for NFL cards at the time.
"(1955 Topps All-American) has been called the most attractive, most distinctive, and most popular set of football cards ever issued," wrote James Mercer for the Sports Collectors Digest. "It is probably the most discussed football issue of all time."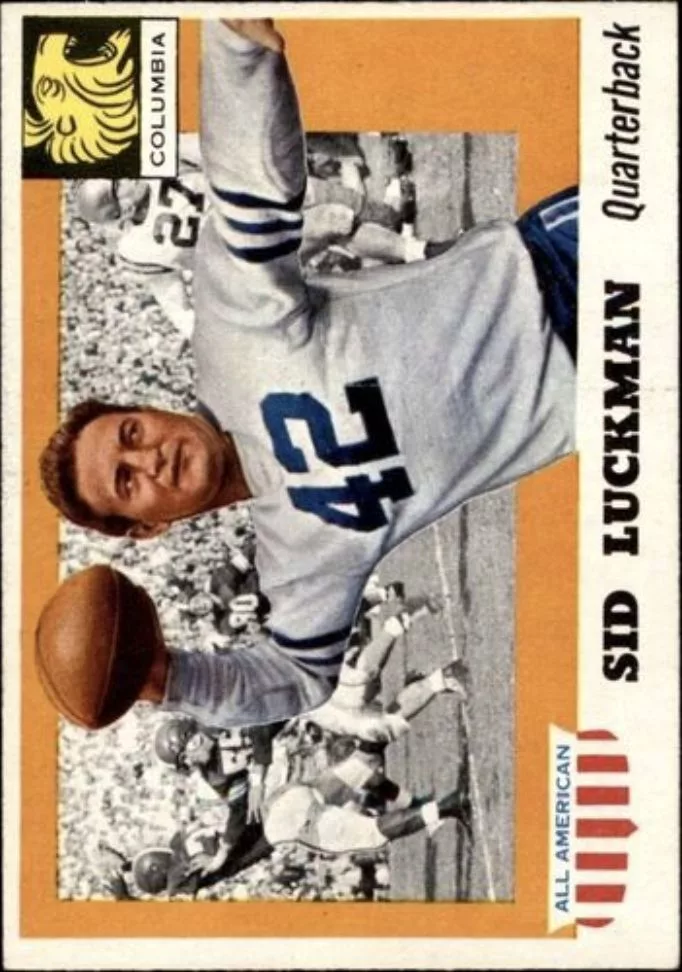 1955 Topps All-American
The cards prominently feature colorful athlete cutouts atop black-and-white game scenes, with unique illustrations for every school and thick, bold borders tying it all together. One of the most cherished cards depicts "The Four Horsemen" of Notre Dame, who paced the Fighting Irish to an undefeated championship season in 1924.
1955 Topps All-American
College Cards Go Quiet
The NCAA governs all collegiate athletics, and even today, it remains steadfast in its belief that amateur student-athletes should not receive pay-for-play in the way that a professional receives a salary. Until recently, any student-athlete that received an "impermissible benefit" (say, a check to cover housing expenses or a free car) violated NCAA rules upholding amateurism. Consider the case of USC running back Reggie Bush. Because he received gifts from a sports agent during his college career, he had to forfeit his Heisman Trophy, and his team vacated its 2005 BCS National Championship. And so, once trading card licensing matured and became more standardized in the latter half of the 20th century, the college game was off-limits for card makers.
Of course, college sports (especially football) are wildly popular, and had these college cards been "legal," the demand from collectors certainly would have been there. Some companies tried to scratch the collectors' itch (while avoiding running afoul of the NCAA) by releasing cards of professional athletes in their college uniform from back in the day. Since they're retroactive releases of current superstars, those cards don't carry the same value as true rookie cards. However, certain cards (like this one of quarterback Tom Brady in his University of Michigan uniform) still generate plenty of hype.
NIL: A Whole New World
As college sports have gotten more lucrative, our understanding of amateurism has evolved. A landmark 2021 Supreme Court case led to a unanimous decision that the NCAA violated antitrust law by restricting student-athlete compensation.
In the wake of that decision, the NCAA made a massive change to its rules: Student-athletes couldn't be paid simply for playing, but they could profit from using their name, image, and likeness while at school the first time, players could use their platforms to sponsor products, appear in ads, and pursue other promotional activities, including trading cards.
Topps got in on the action quickly, dropping 2021-22 Bowman University Football within a year of the decision from SCOTUS. Although that first set was groundbreaking, it was unlicensed — no school names or logos were used, and the players' uniforms were scrubbed of any references to their teams. A small team of Topps employees worked behind the scenes to secure the licensing rights to a growing group of athletes and their universities. Topps acquired the rights to over 150 universities for its products. That hard work was visible for 2022 Bowman University Chrome Football, the first licensed and complete card set to feature college athletes and their schools while they're still in college.
"As a standalone set, this is the first of its kind," said Ryan Hickey, Topps' brand manager for college and NIL products, at the time of the set's release this past spring.
Building off Bowman U's success, Topps released another first-of-its-kind set right before the start of this season: a fully licensed set exclusively featuring an active college team, the Alabama Crimson Tide. The base set consists of 100 cards, with plenty of inserts, parallels, autos, and relic cards that collectors love to chase. Highlights include defensive back Kool-Aid McKinstry and edge rusher Dallas Turner, two players who are both projected to be selected in the first round of the 2024 NFL Draft.
Coming Soon…
Right on its heels, Topps is releasing the next edition of Bowman University Chrome Football in the second week of October. At 200 base cards, the 2023 edition is double the size of its two predecessors. Players appearing for the first time, like Ohio State wide receiver Marvin Harrison Jr. and North Carolina quarterback Drake Maye, receive the classic "1st Bowman" graphic in the top right corner of the card.
While the annual college football set brings plenty of excitement for the new players it showcases, a few unique highlights in the 2023 set should pique a collector's interest. First, the set starts to include some on-card autos for the first time in the series' brief history — one insert, Future of Football Autographs, sports a die-cut design with on-card autos from players like Oregon quarterback Bo Nix. Additionally, one insert pays tribute to 1955 Bowman Football, the last football set that the brand released before its acquisition by Topps the following year.
So, while college football and the Hobby have an illustrious history, the future is way brighter for the pairing than its past. Now that NCAA rules permit trading card products, collectors can only expect more in this space — and for generations to come, these cards will remind fans young and old why college football Saturdays are so special.
---
More College Football and Collecting
---