A History of Firsts
Topics:
Bowman Baseball, History
In the hobby, firsts are everything.
Few longtime collectors ever forget the first card that kickstarted their obsession. Everybody's always chasing the first card printed for the most electrifying ballplayers in the game — this year, that class of top prospects includes 2022 MLB Draftees Druw Jones and Jacob Berry. And there's a certain credibility given to the first brands on the scene in trading cards.
Bowman makes its name on firsts. As the preeminent home for rookie cards (and one of the earliest baseball card manufacturers in the 20th century), Bowman Baseball has been introducing fans to the future of America's Pastime ever since 1948.
But it hasn't been all sunshine and grand slams over those seven decades. Here, we'll dive into the history of Bowman and preview the exciting release of 2023 Bowman Baseball.
The Early Years
Topps might've been the preeminent baseball card brand for most of the 20th century, but it wasn't the first mover in the industry (far from it, in fact). In 1948, Bowman created a set that, along with the 1952 Topps Baseball set, laid the foundation for the modern card — 1948 Bowman Baseball.
"For collectibles, there wasn't really anything in that space at that point," said Aaron Abrams, brand manager at Topps. "Bowman kicked the door in by making cards with actual imagery on them."
It was a small set with only 48 base cards, but it was notable for its stacked roster. It sold for five cents and included three sticks of gum in the package.
The 1948 set was Bowman's first release after the hiatus imposed by World War II, and it was loaded with key "rookie" cards — with the operative word in quotes because the players weren't technically rookies. Still, the 1948 set marked the first time their likenesses were captured on cards.
That group included nine Hall of Famers — highlighted by Yogi Berra, Stan Musial, and Warren Spahn — foreshadowing the brand's future as the top destination for prospecting.
"1948 Bowman Baseball is an important set for the hobby," writes Ryan Cracknell for The Cardboard Connection. "It introduced a major manufacturer that helped usher in modern trading cards."
1948 Bowman Enos Slaughter RC
1948 Bowman Phil Rizzuto RC
1948 Bowman Stan Musial RC
1948 Bowman Warren Spahn RC
1948 Bowman Yogi Berra RC
1948 Bowman Ralph Kiner RC
1948 Bowman Johnny Mize RC
1948 Bowman Bob Feller RC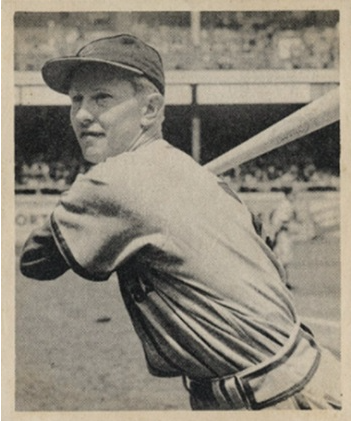 1948 Bowman Red Schoendienst RC
Rained Out
Bowman enjoyed a few more years of popularity, for a short time relishing its status as the top show in town. A few cards from those subsequent sets — like 1955 Bowman Baseball, a favorite of Abrams for its wood-paneled border and throwback color television set design — make for highly desirable grails today.
But Topps' arrival in the early 1950s made it difficult to compete. Bowman produced cards until that 1955 set but lost out on enough exclusive contracts to its rival that continued operation became untenable. (This was the era before the MLBPA negotiated group rights for all players; card company executives had to go to each player individually and secure their agreements one by one.)
1955 Bowman Roger Bowman
1955 Bowman Bob Feller
1955 Bowman Phil Rizzuto
1955 Bowman Dave Pope
1955 Bowman Eddie Matthews
1955 Bowman Al Kaline
1955 Bowman Elston Howard
1955 Bowman Al Barlick
1955 Bowman Hank Aaron
1955 Bowman Willie Mays
1955 Bowman Ernie Banks
1955 Bowman Mickey Mantle
1955 Bowman Yogi Berra
1955 Bowman Pee Wee Reese
1955 Bowman Whitey Ford
A year after that 1955 set, Bowman was acquired by its rival Topps. Rather than continue to produce cards under two separate brand names, Topps retired the Bowman brand and pushed ahead with Topps cards only.
For more than 30 years, Bowman sat dormant. Topps had a stranglehold on the baseball market, staving off challenges from competing companies and the Federal Trade Commission alike.
Raving for Rookies
In the mid-1980s, collectors started to understand the value of rookie cards better. As a show of its commitment to the effort to produce the best cards for rookies and prospects, Topps resurrected the Bowman brand in 1989 and dedicated the lion's share of the subsidiary's cards to young players with bright futures.
"At that time, there was a renaissance of new, exciting baseball players to capture, and Bowman had a lot of push in that space," said Abrams. "If we were ever going to bring it back, 1989 was the perfect time."
For modern collectors interested in chasing baseball prospects, Bowman is the brand to follow; more specifically, Bowman Baseball cards with the "1st Bowman" tag are the cards to keep an eye on. A card marked as "1st Bowman" is like the rookie card before the rookie card — it's the prospect appearing on a card in a professional uniform for the first time, often years before they reach the MLB.
1989 Bowman Gary Sheffield RC
1989 Bowman Ken Griffey Jr. RC
1989 Bowman John Smoltz RC
1989 Bowman Bo Jackson
1989 Bowman Nolan Ryan
1989 Bowman Rickey Henderson
1989 Bowman Cal Ripken Jr.
1989 Bowman Don Mattingly
1989 Bowman Kirby Puckett
1989 Bowman Barry Bonds
Abrams said one of his favorite Bowman Baseball sets to work on was the set from 2020, his first at the company. He recalled that the early days of the COVID-19 pandemic sparked a lot of lapsed hobbyists to return, so the set debuted at an interesting time for collectors, both new and old. 2020 Bowman Baseball also included notable prospects like future New York Yankees outfielder Jasson Domínguez.
A 2023 Preview
So who's in this year's "1st Bowman" prospect pool? It's an impressive roster, highlighted by the familiar name listed above.
Jones, the son of former Atlanta Braves outfielder Andruw Jones, was the second overall pick by the Arizona Diamondbacks in the 2022 MLB Draft. Also an outfielder, Jones is currently the No. 13 prospect on MLB.com's Top 100 prospect rankings. The 19-year-old is currently playing for the D-Backs' Single-A affiliate, the Visalia Rawhide, and he's expected to make his MLB debut sometime around 2026.
Berry, meanwhile, is another highly-anticipated "1st Bowman" prospect. The third baseman and outfielder was the sixth overall pick in last year's Draft by the Miami Marlins. A switch hitter who dominated the college game for the University of Arizona and later Louisiana State University, Berry projects as a well-rounded batter with no major weaknesses at the plate.
The 2023 "1st Bowman" prospect that might make the earliest appearance in The Show is San Francisco Giants lefty pitcher Kyle Harrison, a 2020 second-round draft choice. Harrison is the No. 13 overall prospect in the game, according to MLB.com, and is projected to get the call to the majors sometime this year. A polished starter whose fastball peaks at 97 miles per hour, Harrison also changes speeds with a sweeping slider and a changeup.
2023 Bowman Druw Jones
2023 Bowman Xavier Isaac
2023 Bowman Gabriel Gonzalez
2023 Bowman Abel Bastidas
2023 Bowman Freili Encarnacion
2023 Bowman William Lugo
2023 Bowman Emaarion Boyd
2023 Bowman Drew Gilbert
2023 Bowman Oscar Colas
2023 Bowman Elly De La Cruz
2023 Bowman Yordany De Los Santos
2023 Bowman Max Muncy
2023 Bowman Aeverson Arteaga
2023 Bowman William Bergolla
2023 Bowman Cristhian Vaquero
2023 Bowman Trey Sweeney
2023 Bowman James Wood
2023 Bowman Colson Montgomery
2023 Bowman Kahlil Watson
2023 Bowman Henry Davis
2023 Bowman Ceddanne Rafaela
2023 Bowman Anthony Gutierrez
2023 Bowman Brady House
So, those are a few of the players you're collecting — but what will the cards look like?
Abrams was excited to share a new design vision for 2023 Bowman Baseball, which boasts a full-bordered look for the first time since 2015. The sets of the past few years all had distinctive sharp edges and an almost robotic vibe, part of a push to establish Bowman as a youthful, tech-focused brand. This year, however, Abrams wanted to maintain a metallic look but turn the dial back a bit. He mentioned 2013 Bowman Baseball as a key visual reference for the team.
2013 Bowman Clayton Kershaw
2013 Bowman Avisail Garcia RC
2013 Bowman Arnoldis Chapman
2013 Bowman CC Sabathia
2013 Bowman Chris Sale
2013 Bowman Billy Butler
On the insert front, Abrams was excited about "Sights on September," which features a few top prospects that might get a late-season call-up to the Majors as early as this season. He also loved "Modern Prospect," an insert that parodies magazine covers.
And while it's anyone's guess as to which of this year's Bowman prospects will turn into the next generation's superstars, the uncertainty is part of the fun. Will you pull the "1st Bowman" of a future Hall of Famer this year?
The only way to find out is to start ripping.