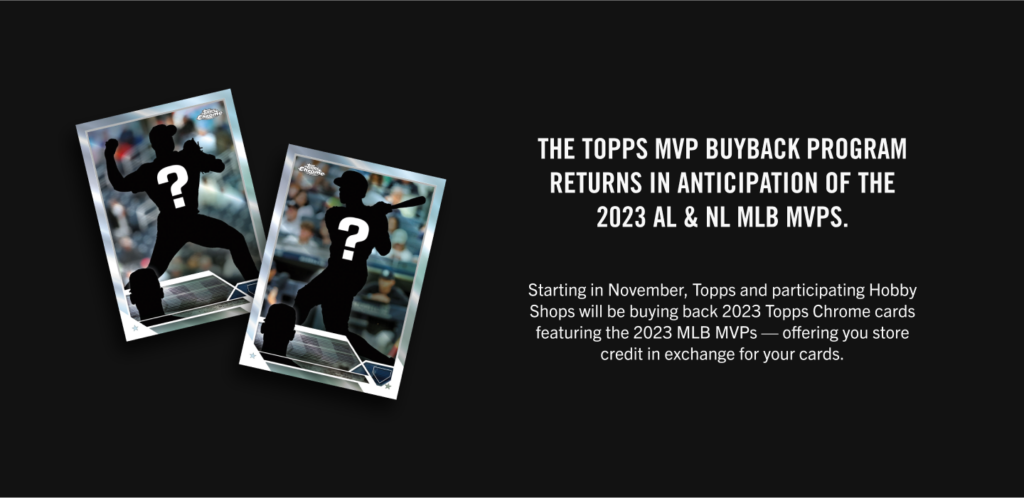 See Images of all Eligible Cards Here
---
MVP Buyback Store Locator
---
MVP Buyback Authorized Mail-in Partners
If you do not live near a participating hobby shop, Topps has partnered with three retailers to service mail-in MVP Buyback cards. Please print and fill out the form below and mail it in along with your cards to the authorized partner of your choice for store credit.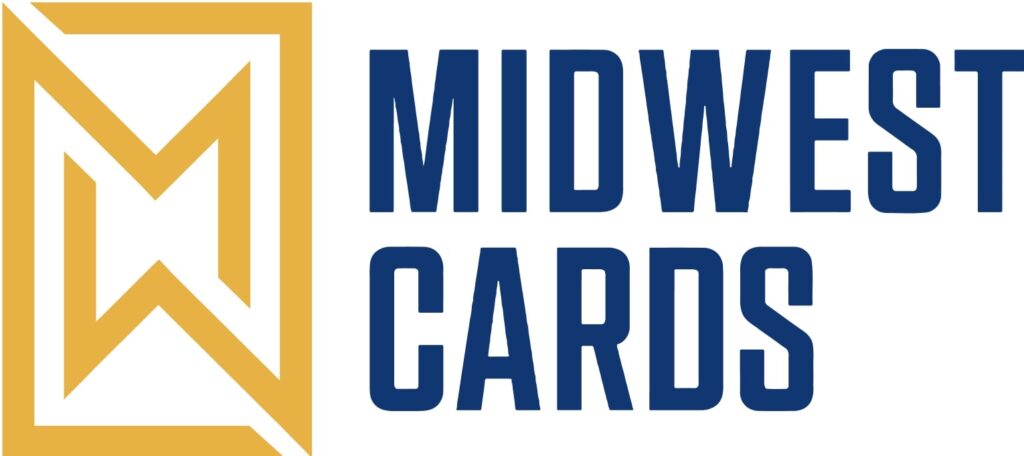 Steel City Collectibles

Mailing Address
Steel City Collectibles
ATTN: MVP Buyback
2 Juniper Street
McKeesport, PA 15132

MVP Buyback Mail-in Form
---
MVP Buyback FAQs
What cards will be eligible for the MVP buyback offer?

Major League Baseball will announce the American League and National League MVPs in November 2023. After that happens, the 2023 Topps Chrome base cards of those two players, along with the base alternative, refractor, and certain numbered parallel cards, will be eligible for the buyback program. For a full list of the eligible cards, and the specific products/SKUs where those cards appear, see the table above.
If the MVPs haven't been decided yet, what cards should I be collecting now? How do I know what to collect?

That's the exciting part! Starting today, you should start collecting players you think could win the MVP. When you open a box of 2023 Topps Chrome, be sure to collect any player you think might win the award. If they do, you'll have the option to exchange those cards for store credit starting in November. And if they don't win the award…well, you'll still have an awesome card collection.
When will the buyback program start?

The 2023 MVP Buyback Program will begin shortly after MLB announces the 2023 MVPs in November. Shops should not accept MVP buyback trade-ins prior to the official program start date. This page will update with more details once the MVPs are announced.
Does the buyback offer only apply to 2023 Topps Chrome cards?

The MVP Buyback Offer only applies to 2023 Topps Chrome and Topps Chrome Logofractor products. Other 2023 Chrome cards (e.g., Cosmic Chrome) will not be eligible for buyback.
Will any other players' cards be eligible for the buyback program?

No. Only select cards for the 2023 American League MVP and National League MVP will be eligible for buyback.
What will I receive in exchange for my cards? Can I get cash?

When you bring your cards into your hobby shop, you will receive store credit in exchange – not cash. The amount of store credit is determined by the pricing table above.
How do I determine the buyback value of my numbered cards?

It's very simple. All MVP cards that are numbered greater than /100 will fetch $100 in credit. All numbered cards less than /100 will fetch $200 in credit. Thus, for /399, /350, /299, /275, /250, /199, /150 or /125 cards the buyback offer is $100. For /99, /75, /50, /25, /5, /-5 or /1 cards, the buyback offer is $200.
Can I redeem my cards if I don't live near a participating hobby shop?

Yes, you can. Topps has partnered with three authorized mail-in partners who will be accepting mailed-in eligible MVP Buyback cards for in-store or online credit. Please see above for more details.
I run a hobby shop and want to participate – how can I?

If you run a hobby shop and want to participate in the MVP Buyback Offer Program, please fill out the following form. This form does not confirm participation. You will be notified if you are a confirmed Hobby Shop eligible for this program
Is there a limit to the number of cards I can redeem for store credit?

While there isn't an official limit, each hobby shop will have the discretion to cap the number of cards they buy back.
Do the cards have to be in mint condition?

Cards do not need to be in mint condition. Ripped or altered cards will not be accepted for the buyback program, but as long as your card is in one piece, it will be eligible.
What happened to the 2022 MVP cards that were bought back last time?

A small number of cards that were bought back under the 2022 Topps Chrome MVP Buyback Program have been stamped and reinserted into the 2023 Topps Chrome product, and some have been signed by the 2022 MVPs.
Do I have to make a purchase to participate in the buyback program?

NO PURCHASE NECESSARY TO ENTER OR WIN A PRIZE. A PURCHASE WILL NOT INCREASE YOUR CHANCES OF WINNING. VALID ONLY IN THE 50 UNITED STATES AND DISTRICT OF COLUMBIA, VOID IN PUERTO RICO, WHERE PROHIBITED OR RESTRICTED BY LAW, AND OUTSIDE THE UNITED STATES. MANY WILL ENTER, FEW WILL WIN. For a chance to obtain a redeemable card, while supplies last, hand print your name and complete address on a 3 x 5 card and mail in a #10 envelope to: 2023 Topps MVP Buyback Offer, P.O. BOX 852168, MESQUITE, TX 75185. Only one card per envelope, mailed separately, postmarked by February 1, 2024, and received by February 10, 2024. No metered mail. Limit 1 request per household for 2023 Topps MVP Buyback Offer. Approximate odds of receiving a redeemable card: 1:75. Failure to comply with the foregoing will result in disqualification of all entries received from a single household, in Topps' sole discretion. Drawings on or about March 1, 2024. Potential Canadian winners will be required to first correctly answer a mathematical skill-testing question. Include on your 3 x 5 card the answer to the following skill-test question: 42 X 2 + 3 – 19 = ? Major League Baseball and Major League Baseball Players Association and their affiliates are not responsible for this promotion.
Terms & Conditions

The 2023 Topps MVP Buyback Offer ("Buyback Program") is sponsored by The Topps Company, Inc. ("Topps") and is subject to, and conditioned upon, the following additional terms and conditions. To the extent that you attempt to participate in the Buyback Program, you agree to be bound hereby. Topps reserves the right in its sole discretion to cancel, terminate, modify or suspend the Buyback Program or modify these terms and conditions for any reason, including if the Buyback Program is not capable of running as planned, including, without limitation, unauthorized intervention, fraud, or any other causes beyond the control of Topps which corrupt or affect the administration, security, fairness, integrity or proper conduct of this Buyback Program or amendment and/or adoption of new or existing laws and/or regulations regarding the administration, operation or any other aspect of the Buyback Program in any jurisdiction. Should the Buyback Program be terminated prior to the stated expiration date, redemption of eligible cards will be honored to the extent received up until the time of modification, cancellation, or termination or in a manner that is fair and equitable as determined by Topps. All interpretations of these terms and conditions and decisions by Topps are final. THE NEW YORK COURTS (STATE AND FEDERAL) SHALL HAVE SOLE JURISDICTION OF ANY CONTROVERSIES REGARDING THE BUYBACK PROGRAM AND THE LAWS OF THE STATE OF NEW YORK SHALL GOVERN THE BUYBACK PROGRAM. YOU HEREBY WAIVE ANY AND ALL OBJECTIONS TO JURISDICTION AND VENUE IN THESE COURTS AND HEREBY SUBMITS TO THE JURISDICTION OF THOSE COURTS. You agree to indemnify and hold harmless Topps, the MLB Entities, Major League Baseball Players Association, and Major League Players, Inc. and each of their respective affiliated companies, parents, sponsors, subsidiaries, officers, directors, employees, agents, members (collectively, the "Indemnified Parties") from and against any and all liabilities, claims, suits, losses, damages, expenses and costs (including, but not limited to reasonable attorneys' fees) resulting or arising from your participation in the Buyback Program. FURTHER, YOU RELEASE AND HOLD HARMLESS THE INDEMNIFIED PARTIES FROM AND AGAINST ANY AND ALL LOSSES, DAMAGES, RIGHTS, CLAIMS, AND ACTIONS OF ANY KIND ARISING IN WHOLE OR IN PART, DIRECTLY OR INDIRECTLY, FROM THE BUYBACK PROGRAM OR PARTICIPATION IN ANY RELATED ACTIVITY, AS WELL AS CLAIMS BASED ON PUBLICITY RIGHTS, DEFAMATION, AND/OR INVASION OF PRIVACY. IN NO EVENT WILL THE INDEMNIFIED PARTIES BE RESPONSIBLE OR LIABLE FOR ANY DAMAGES OR LOSSES OF ANY KIND, INCLUDING WITHOUT LIMITATION, DIRECT, INDIRECT, INCIDENTAL, CONSEQUENTIAL, OR PUNITIVE DAMAGES, ARISING OUT OF ANY ACCESS TO, LACK OF ACCESS TO, AND/OR USE OF THE BUYBACK PROGRAM OR ANY RELATED WEBSITE, THE DOWNLOADING FROM AND/OR PRINTING MATERIAL DOWNLOADED FROM THE BUYBACK PROGRAM OR ANY RELATED WEBSITE OR THE REMOVAL FROM THE BUYBACK PROGRAM OR ANY RELATED WEBSITE. WITHOUT LIMITING THE FOREGOING, THE BUYBACK PROGRAM AND ALL MATERIALS PROVIDED ON OR THROUGH THE BUYBACK PROGRAM OR ANY RELATED WEBSITE ARE PROVIDED "AS IS" WITHOUT WARRANTY OF ANY KIND, EITHER EXPRESS OR IMPLIED, INCLUDING WITHOUT LIMITATION THE IMPLIED WARRANTIES OF MERCHANTABILITY, FITNESS FOR A PARTICULAR PURPOSE, AND NON-INFRINGEMENT. As used herein, "MLB Entities" means Major League Baseball Properties, Inc., MLB Advanced Media, L.P., The MLB Network, LLC, the Office of the Commissioner of Baseball ("BOC"), its Bureaus, Committees, Subcommittees and Councils, the Major League Baseball Clubs ("Clubs"), and each of their parent, subsidiary, affiliated and related entities, any entity which now, or in the future, controls or is controlled by, or is under common control with the Clubs or the BOC and the owners, general and limited partners, shareholders, employees, directors, officers, and agents of the foregoing entities. The 2023 Topps MVP Buyback Offer is in no way sponsored by any of the MLB Entities. Major League Baseball trademarks and copyrights are used with permission of Major League Baseball. Visit MLB.com.
---
Cards 101
---